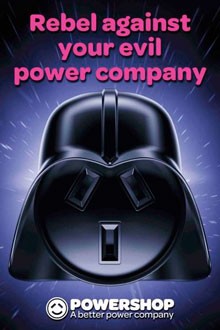 Stroppy Australian electricity retailer Powershop has chosen Wellington indie Doublefish to take its message to the state of Victoria. 
"The job was the result of a pitch between us and a Melbourne agency," Doublefish's Ken Double told MAD this morning.
"We're Powershop's New Zealand agency and we'd done some initial work for Australia, so we did have a relationship with them. The situation in Victoria is a bit different to New Zealand with a very large number of power companies overall but dominated by the big three.
"Melbourne customers have had to endure a lot of door knocking and aggressive sales tactics so powercos aren't exactly the top of anyone's hit parade over there. We think they're ready for a company like Powershop.
The billboards depict incumbent power companies as greedy, underhand, old fashioned and even plain old evil.
Powershop head of sales and marketing Jamie Driver said the campaign may be mischievous but is deadly serious in its mission to end the complacency that is costing Victorian power consumers millions every year.
Driver said his choice of agency was all about finding an agency that understood the Powershop brand spirit.
"As a brand we're a small angry outsider – so where better to find an agency than New Zealand?
"Doublefish have taken our three-point plug logo and turned it into an emoticon to describe how consumers feel about their power companies. They're choice as, bro."
---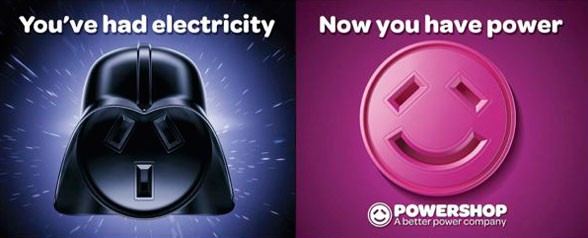 ---
---
---
CREDITS
Creative team: John Fisher and Ken Double
Agency: Doublefish Ltd and Crestani Communications
Suits: Shelley Crestani and Jill Pinfold
Client: Jamie Driver and Naomi Morton
Images: Andrew Martis (3D) and Andy Salisbury (Photoshop)
Graphics/Online: Jason Bowden