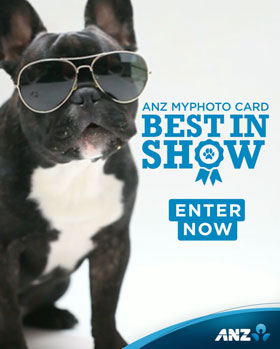 AUCKLAND, Monday: TBWA NZ has launched a new ANZ Bank campaign saluting New Zealand's 4.6 milllion pet owners – 64% of households in the country.
The campaign, Best in Show, encourages Kiwis to share images of their dogs, via the personalisation feature of ANZ's MyPhoto cards, a free service that allows customers to personalise their ANZ Visa Debit card with a photo or a gallery image.
The four-week campaign kicked off last week on Facebook and Instagram, and via the ANZ Best in Show website, the public can upload a photo of their dog with a chance to win across three categories: Cutest Canine, Hilarious Hounds, and Soundest Sleeper. 
As well as taking away the title of Best in Show, the top dog in each category will also win their owner $1000 cash.
The campaign is striking a chord among pet owners, with the bank receiving more than 3000 entries in the first six days – from lovable labs, brilliant bichons and popular poodles to dainty dachshunds and frisky frenchies.
---
"What are the judges looking for? This is not your standard dog show."
---
The ANZ Marketing Team – avid dog lovers all – will be putting on their judging hats. The entries will be narrowed down to the top 10 (in each category) and then the team will vote to crown the winner of each category.
What are the judges looking for? "This is not your standard dog show," says ANZ marketing head Matthew Pickering.
"The judges won't be assessing the dogs' size, eye colour, ear length, head shape, whisker thickness or coat texture. Instead, they'll be looking for the most adorable, ooh/ahh-inducing dogs; the dogs that make them laugh out loud, and the sleepiest snoozers of the bunch!"
TBWA COO Shane Bradnick said: "We know a popular ANZ MyPhoto card image is pets, so what better way to celebrate our love of pets than by launching a nationwide ANZ MyPhoto card Best in Show competition that lets people show off their four-legged friends."
If it fits, I sits!
More of a cat lover? Never fear – the second half of ANZ's Best in Show campaign will launch in late August and celebrate our feline friends. The cat-egories include Cool Cattitude, Kutest Kitty, and If it Fits, I Sits.

CREDITS
Agency: TBWA Group NZ
ECD: Shane Bradnick
Creatives: George Stafford, Tess Saxby
Digital Designer & Editor: Ron Goh
Freelance Editor: Jon Waters
Senior Content Strategist: Harry Taylor
TV Producer: Samantha Armstrong
Digital Lead: Gideon Retief
Account Director: Keshvi Lal
Account Executive: Kimberley Pearce
Production Company: TBWA BOLT
Casting: UCG for all assets
PR: Eleven
---