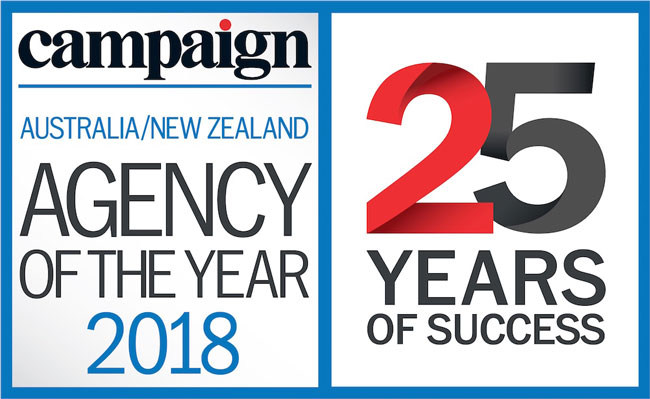 TOKYO, Sunday: A dozen NZ entries have made it through to the shortlist stages of the 25th Campaign Asia-Pacific Agency of the Year Awards – including DDB, Special, Colenso, Little Giant, UM (Christopher Colter), PHD (Simon Bird,) Carat, MediaCom, OMD, Eleven PR, and WiTH Collective.
And tickets for the four awards presentations in December—in Mumbai, Tokyo, Shanghai and Singapore—are now available for booking.
The awards recognise inspired leadership, management excellence, outstanding business performance and overall brilliance from across the Asia-Pacific advertising and communications industry through five separate regional competitions, plus the overall Agency Network of the Year awards.
NZ highlights …
New Zealand Creative Agency of the Year: Colenso BBDO, DDB Group, Special Group.
New Zealand Digital Agency of the Year: DDB, Little Giant linked by Isobar, Special Group

 

Australia/NZ Strategic/Brand Planner of the Year: Christopher Colter (UM), Simon Bird (PHD Group)
New Zealand Media Agency of the Year: Carat, MediaCom NZ, OMD NZ, PHD APAC
Australia/New Zealand Independent Agency of the Year: C, ummins&Partners (Aust), Special Group.
Australia/New Zealand PR Agency of the Year: Eleven, OPR, Red
Australia/New Zealand Integrated Marketing Agency of the Year: Special Group, Cummins&Partners, WiTH Collective
Australia/New Zealand Social Media Agency of the Year: Cummins&Partners, DDB New Zealand, Special Group
Attend the awards …
South Asia Agency of the Year Awards Show: Tuesday 4 December, Mumbai, India
Japan/Korea AoY Cocktail Presentation: Thursday 6 December, Tokyo, Japan
Greater China AoY Awards Show: Tuesday 11 December, Shanghai, China
Australia/New Zealand / Southeast Asia Network & AoY Show: Thursday 13 December, at the Ritz-Carlton Millenia, Singapore
---