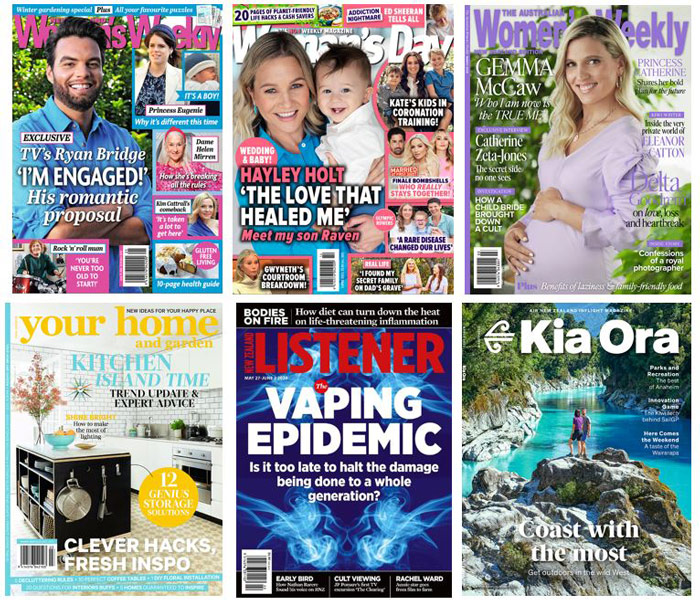 AUCKLAND, Today: Are Media NZ, the publisher of Woman's Day, New Zealand Woman's Weekly, New Zealand Listener, Your Home and Garden, and Kia Ora, has announced strong growth in readership for its portfolio in the Nielsen Q1 2023 results.
The company's magazines now cumulatively reach 1.98 million+ readers per issue, up 116,000 readers since Q1 2022.
 Highlights include:
Kia Ora: 372,000 readers +40% or 107,000 readers vs Q1 2022
New Zealand Woman's Weekly: 461,000 readers +2.2% or 9,000 readers vs Q1 2022
Woman's Day: 364,000 readers +2% or 5,000 readers vs Q1 2022
Are Media NZ editorial director Sarah Henry said: "We are delighted to see such strong readership figures for our magazines.
---
"Engagement (measured by time spent reading) also grew significantly – to 103 minutes."
---
"These increases show that New Zealanders more than ever crave quality reading experiences, to disconnect and take time out. There is a want and need to consume content they care about from brands they trust and love.
"Another important metric for advertisers, engagement (measured by time spend reading) also grew significantly to 103 minutes, providing advertisers with over an hour and a half of high-quality focused attention from readers in each issue.
"Research also indicates that magazine readers enjoy advertising as part of the experience more than advertising in any other media, absorbing messages significantly more than other fleeting or interruptive advertising experiences."
Are Media NZ general manager Stuart Dick said: "These figures are a testament to the quality of the content.
"It is also exciting to see the journey our readers are taking – enjoying our magazines in a growing numbers, whilst also exploring more content via our digital platforms, and more recently even shopping directly from our e-commerce platforms.
---