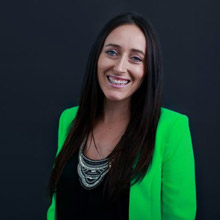 Direct from the northern beaches of Sydney: Wellington-based national digital/creative recruiter TalentShop has recruited consultant Jessica Haines from Firebrand Sydney.
"Jess has a great track record in recruiting for the creative industries, and is based in Wellington with the team here but will shortly be active in the Auckland/Christchurch market," says TalentShop director Sarah Avent.
Haines' Linkedin profile tells us she is originally from Sydney's Lower North Shore and has spent her life living between "in the land of the long white cloud, and the northern beaches of Sydney".
"I love architecture, fashion, people, and a good Martinborough sav," she says.
After graduating from Massey University in 2005 with Honours in a Bachelor of Design, she began her career with a Wellington architecture firm initially as Marketing Manager & then moved into a role as architectural designer.
"After two successful years, the GFC hit & it was time for a change. I moved into the world of sales & account management before landing back in Sydney and recruiting for the Sydney advertising market.
"In June 2014 it was time for the next chapter. With New Zealand calling I landed in Wellington and joined the team at TalentShop sourcing the world's best Digital, Creative, Marketing & Communications talent for New Zealand agencies and businesses across Wellington, Auckland and Christchurch."
Jessica@talentshop.co.nz
Sarah@talentshop.co.nz
www.talentshop.co.nz
---