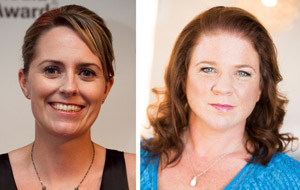 Fairfax taps Herald news chief: Fairfax Media has appointed Cathy O'Sullivan to the role of Auckland editor-in-chief. O'Sullivan is currently the editor of nzherald.co.nz as well as head of news for the New Zealand Herald.
"Cathy brings a tremendous amount of creativity and editorial talent to our Auckland newsroom," said Fairfax Media group executive editor Sinead Boucher.
"We're thrilled to have Cathy back in the Fairfax fold. Her appointment reflects our strong focus on the Auckland market and our commitment to providing the very best journalism and experiences for our audiences right across our portfolio of publications."
O'Sullivan will lead the newsroom that is responsible for delivering the Auckland digital audience for Stuff.co.nz and the wider Fairfax group. Her role also encompasses leadership of the Auckland Suburban newspaper group, the Sunday Star-Times and the Sunday News.
"I am really looking forward to returning to Fairfax Media and taking up this new role," O'Sullivan said. "It is an exciting time in journalism with more tools on offer to tell stories than ever before. I'm relishing the opportunity to lead the editorial teams at Fairfax's Auckland operations."
O'Sullivan has worked in digital, print and broadcast media for a decade, in newsrooms in both New Zealand and Europe. Previously, she was news editor for Stuff.co.nz.
She will join the Fairfax editorial team in August.
New ed at Food mag: Food magazine (formerly Foodtown Magazine) has appointed Catherine Milford as editor.
English-born Milford worked as a freelance journalist in the UK specialising in lifestyle writing including food, health and wellbeing and also working in television and the music industries.
With her husband, she moved to New Zealand in 2003 to deputy editor roles in women's publications.
Over the course of her career, she's has worked with some of New Zealand's finest chefs, including Simon Gault, Josh Emett, Ray McVinnie, Ray McVinnie, Annabelle White, Jo Wilcox and Peter Gordon.
But she's seen enough evidence of home-cooked talent to know good food doesn't always need to come out of a restaurant.
"While I take immense pleasure from watching the professionals at work – and of course tasting their dishes – all New Zealanders are capable of making little nuggets of heaven in their own kitchens," Milford says.
"In this country we grow, farm and harvest some of the best ingredients in the world, and all it takes is a little imagination – aand a good recipe – for everyone to be able to put really delicious, innovative meals on the table.
"New Zealand is fast becoming very multicultural. As such, the range of what Kiwis are learning to put on our tables is incredible. From Asian to European, Middle Eastern to Mexican, we have a wealth of options to try."
Food magazine publisher Tim Connell paid tribute to outgoing editor Sarah Beresford who is leaving to travel.
"Sarah has made a tremendous contribution to the success of the magazine during her eight-year tenure for which we thank her. She goes with our best wishes for wonderful times in her planned travels."
---