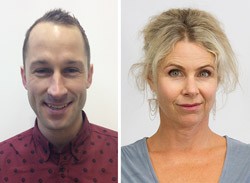 mediaR has made two new appointments to its team: The staff boost coincides with a number of new business wins (see mediaR warms up the Aussies on this page), says managing director Tony Richards.
Hayden Ricketts joins the agency as Head of Digital, reinforcing the agency's growth in the digital space and broadening its scope of services in this area.
Ricketts comes from client-side, most recently as digital marketer at Air New Zealand managing the social media community, and prior to that he headed up the digital channel at Genesis Energy, focussing on acquisition, retention and engagement strategies.
Rachel Hitchcock joined the agency in May as Group Account Director. She has 20 years' experience on both agency and client-side working with Montana Wines, Vittoria Coffee, Simplot Australia and Tegel Chicken.
For the last three years she has been running her own marketing consultancy and handling the marketing of the Taste Auckland festival.
"The appointments of Hayden and Rachel – and the client wins – is testament to the work and ethos of the agency and the truly integrated offering its able to present in the market," Richard said.
---