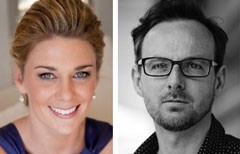 OMD hires new Client Services Director: OMD Auckland has recruited Penelope Burns to one of the agency's three newly-created Client Service Director roles.
Burns joins from Mediacom, where she led a portfolio of accounts including BNZ. At OMD she will head a team responsible for servicing Air New Zealand and McDonald's among others.
"I am delighted to be joining an agency with the size & stature of OMD," she said. "There is a clear vision for where it is heading, and with the breadth of specialist services they offer it's a very exciting time to be here."
Long-term senior client leads Chrissy Payne & Fay Laurenson join Burns as the other two Client Service Directors, recognising (says OMD Managing Partner Andrew Reinholds) their outstanding personal contributions to OMD.
"We're thrilled that someone with Pen's outstanding reputation has chosen to join us at a time when we are really looking to accelerate our growth," Reinholds said.  "Now more than ever, having the best talent is crucial for any agency looking to take a leadership position in the market, and Pen is definitely one of the most exciting talents around.
"Pen's passion combined with Chrissy & Fay's experience gives us an incredibly powerful and complimentary trio of client leads, and we're excited at the prospect of them driving our service moving forward."
In addition, OMD has also made another senior hire with Rachel Stewart joining as an Account Director within Laurenson's portfolio.  She joins from sister agency PHD, and will work on accounts including Sky TV.
"I am thrilled to have joined the team at OMD.  Their passion, expertise & creativity in media is obvious and I am looking forward to being involved in some exciting future projects," she said.
Also a recent arrival within the agency is Fuse OMD GM Robin Wilson. He's ex McCann Erickson UK.
---