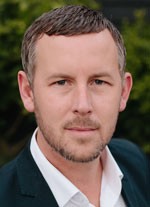 DDB digital chief takes over at Reactive NZ: Global independent digital network Reactive has appointed Paul Pritchard as managing director of its New Zealand office.
Pritchard brings to Reactive over 14 years in the communications game. In his most recent role as digital business director at DDB Group, Pritchard oversaw the growth of the group's digital offer. During his time, RAPP Tribal became Campaign Asia Pacific Australia and New Zealand Digital Agency of the Year (2012), DDB picked up its first Webby award and a number of Cyber Lions, and DDB's Shaper programme was launched.
As MD at Reactive, Pritchard is tasked with raising the profile of the agency, building partnerships with existing and new clients and maintaining the high standard of creative and technical work Reactive is known for globally.
"It's the perfect time to be leading an independent digital agency in New Zealand," Pritchard said. "New Zealand businesses are evolving to meet consumers' digital needs and Reactive's global reputation as a strategic digital leader backed by a truly talented team of digital customer experience experts makes us a perfect partner.
"I'm looking forward to getting stuck in."
Melbourne-based Reactive co-founder Tim O'Neill said: "We are thrilled to have Paul taking the helm of our New Zealand office, and also contributing to Reactive's global offices. He is a genuinely nice guy, with a true passion for digital. He fits right in."
About Reactive:
Reactive provides digital strategy, design, development and online marketing for some of Australasia's best-known brands – and a global client list that includes Nissan Australia and NZ, ANZ, Coles, Tesco, and British Airways. Reactive has 150 staff with offices in Melbourne, Sydney, Auckland, London and New York. Reactive recently picked up a Black Pencil at the D&AD Awards for The Most Powerful Arm in the World. See www.reactive.com.
---