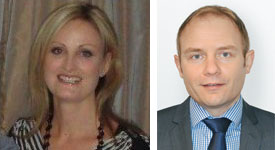 Bauer Media agency sales director Suzanne Bull has resigned (destination unknown as press time). "Suzanne has been an extremely valued member of our senior leadership team," says Bauer commercial director Paul Gardiner.
"Suzanne is an excellent operator and her deep understanding of advertising agencies and New Zealand media has been a fantastic asset to the business. She has played an instrumental part in a number of key projects, particularly around trading and improving our sales processes.
"Suzanne's agency expertise, coupled with her commercial acumen, and her passion for media will be sorely missed. We wish her every success for the future."
Gardiner says a search has commenced for her replacement.
---
Sovereign has appointed James Perrin as head of brand, responsible for the strategic direction of Sovereign's brand and communications.
Perrin has 18 years' experience building and leading fully integrated and digital specialist marketing teams across a range of key finance and telco businesses including GE, Prudential (UK), T-Mobile (UK) and Telecom. He previously held the role of head of digital marketing at ANZ.
"I'm thrilled to have the opportunity to drive a more digitally focused approach for one of New Zealand's leading organisations in a highly competitive category," he said. "Building on Sovereign's 25 years of helping Kiwis take charge of their lives, we're poised to push boundaries even further to find new and effective ways of addressing the issue of underinsurance in New Zealand," says Perrin.
New Zealand is reported as having the third lowest penetration of insurance among 31 OECD countries with only Greece and Mexico having a lower insurance penetration.
Sovereign chief marketing & innovation officer Chris Lamers says Perrin's strong integrated marketing and digital experience is critical as Sovereign focuses on targeting New Zealanders who have not traditionally engaged with insurance companies, yet don't have a plan to pay the bills if they are not able to work for an extended period of time.
"Last year we started the journey of shaking things up in the insurance industry and as a result thousands of New Zealander's now have peace of mind knowing that if they can't work, we'll look after their finances.
"With James' expertise we're ready to significantly increase investment in our digital strategy, with the ultimate aim of continuing to help New Zealanders take charge of their lives."
---