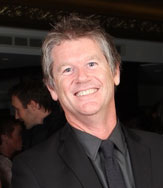 Outdoor sales specialist Kerry George has relinquished one of the two roles he previously held with Outdoor Media Group, which owned both Media5 and GO Media.
For the past 3 ½ years George has been working as national agency business director for both Media5 and GO Media, under the umbrella of Outdoor Media Group.
"Both Media5 and GO Media have experienced substantial growth over the past 18 months to the point where each company can now support their own individual sales teams and process," George says.
"Each company has its own unique OOH inventory. GO Media's expansion of their national bus inventory has also been a massive undertaking.
"As a combined sales solution under one blanket entity, Outdoor Media Group is no longer an option moving forward. I have recently made the decision to work exclusively for Media5."
Both companies have offices in Christchurch and Auckland, and will work together to transition existing business smoothly. Outdoor Media Group will cease to exist.
"I wish to thank you for all your business to date," George said. "We couldn't have achieved the goals we set ourselves without your continued support. I look forward to a continued working relationship into the future."
---