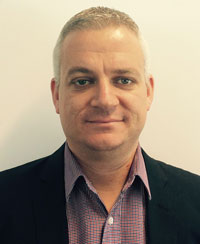 Online anytime TV service Lightbox has appointed Andy McCool as its new head of product. McCool who joins from Sky Network Television.
At Lightbox he will be responsible for defining the roadmap, features and technical assets aimed at making it "the best online streaming product in New Zealand".
Lightbox ceo Kym Niblock said: "We are honoured to have Andy join the team as head of product. The role requires a certain skillset to deliver a world-class product using business acumen, technical expertise and understanding the customer experience all at once.
"Lightbox is entering its second year as key player in the market and we're excited that Andy will be joining us on this journey".
McCool has specialised in product development and innovation at Sky where he's spent the past four years as a senior product manager. His previous experience includes Mighty River Power (business development manager) and Sky in the United Kingdom (business analyst and operations manager).
McCool says he's looking forward to joining the Lightbox team and continuing to help it grow into a stand out digital business.
About Lightbox
Lightbox is a New Zealand-made streaming video on demand service (SVOD) that gives you the freedom to choose from thousands of hours of great TV shows, all ready to watch when you are, with no ads to interrupt. With award-winning drama and crime shows, popular comedy and sci-fi series, and an impressive line-up of kids' programmes, Lightbox has something for the entire family to enjoy. The service can be used by anyone with a broadband connection and is compatible with selected Samsung Smart TVs, desktop PCs, laptops, iPads, Chromecast and on PlayStation4 and PlayStation3 consoles. The Lightbox mobile app is also available to download on Apple iPhones 4s and above and Android smart phones and tablets 4.2 and above. The first 30 days are free, so new subscribers can try out Lightbox. After that, it's only $12.99 per 30 days for all you can eat TV. Your usual ISP charges apply. There are no fixed contracts, no set-top boxes required and no installation costs – it's TV, online, anytime.  Lightbox's most watched shows are Suits, Breaking Bad, Outlander, Mr Robot and Vikings.
---