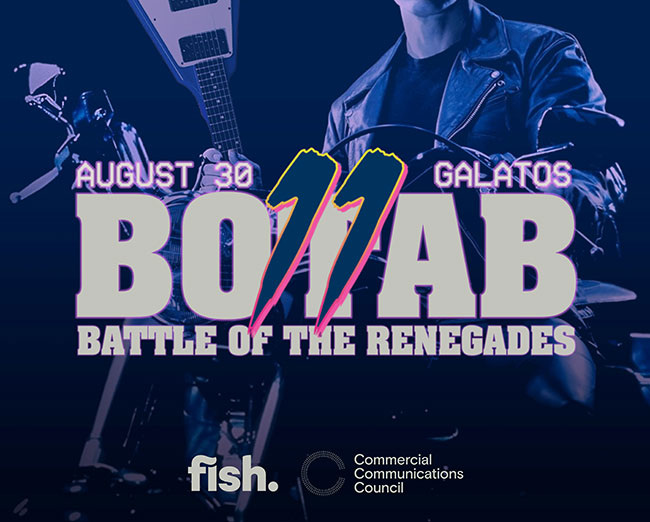 M+AD swooped too early on a few scraps of comment we found on the Comms Council website yesterday, heralding the first news of Botab 2018. Mostly we got it right – but there were still some errors – and organisers Fish have now issued the real-deal release, including an up-to-date list of sponsors, the correct band-entry prices, and the date. Here's that Fish release, in full: Flying Fish and the Comms Council present the 11th annual Battle of the Ad Bands – Battle of the Renegades. 
"To mark the first Botab in our new home – Galatos, we're throwing out the rulebook and allowing ring-ins. That's one Renegade ring-in per band," reads the latest release.
"Each band will have 15 minutes to impress the judges, and the Botab committee will be dishing out renegade anthems as the wildcard.
---
"Round up your agency's best musos, register, and get practising! You have just eight weeks before showdown."
---
"To claim the auspicious title of 2018 Botab champions, round up your agency's best musos, register your band, and get practising! You have just eight weeks before showdown."
For full rules and to register, head to www.botab.co.nz
"For those of you who didn't make the cut for your agency band, you can get your tickets early August for the battle on Thursday 30 August."
---