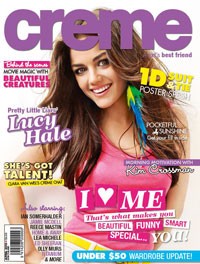 Ongoing falls in circulation and ad revenue have led Bauer Media to close popular youth title Crème. The final issue will be the September edition.
"The youth market is one of the most challenging sectors in the industry with increasing numbers of teenagers choosing other platforms over print," said publisher Fiona Lyon.
"Despite the very best efforts of the Crème team, who have been producing a great magazine each month since its launch in 1999, Crème has fallen short of its commercial expectations and we have decided to close the printed edition.
"Bauer will continue with Crème's social properties, which have a high level of engagement," she said. Bauer now plans to monetise these channels via strategic partnerships with advertisers, using the social platforms as a part of an integrated brand campaign across Facebook, Instagram and live events.
Crème currently enjoys 31,000 Facebook 'likes', and 6500 followers on Twitter.
Bauer bought the title from APN last year, along with New Zealand Woman's Weekly, The Listener, Simply You, and Simply You Living.
"Crème under APN was running at a loss with declining retail sales and advertising revenue," Lyon said. "Bauer has grown the advertising revenue for the title but unfortunately this was not enough to sustain a profitable margin."
Lyon says the affected staff have all been consulted, Bauer will "investigate redeployment opportunities within the company".
---