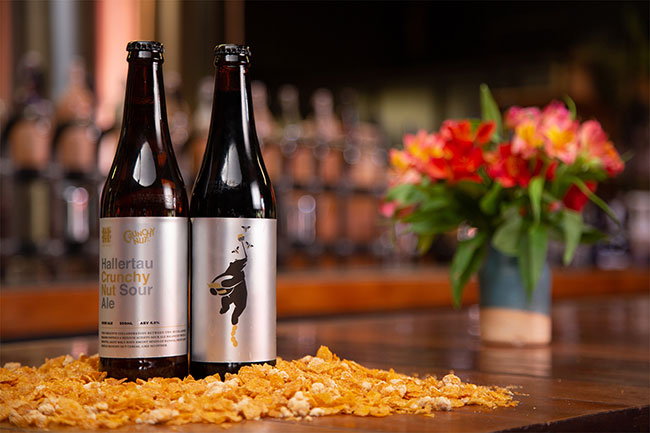 AUCKLAND, Monday: Kellogg's has unveiled a beer collaboration with Auckland-based craft brewery Hallertau to launch a limited-edition Crunchy Nut-inspired beer.
(No ad agency was involved – indeed, it's unclear whether any NZ or Australian brand agencies currently work for Kellogg's … all the information for this story came via Acumen Republic NZ, who led the PR and comms support. Farrimond Auckland managed the artwork/creative for the promotional bottle labels and tap badge.)
The Kellogg's/Hellertau collaboration has produced a bespoke Hallertau Crunchy Nut Kiwi Sour Ale, promising "a refreshing and irresistibly tasty experience that highlights just how versatile cereal can be!"
The beer is available on tap for a limited time (scroll down to find the locations).
Kellogg's NZ country manager Ben O'Brien said: "This is a particularly exciting project as it's the first time, globally, that Kellogg has collaborated with a brewery to create a cereal-inspired beer.
---
"Lactose gives it a milky finish. With kiwifruit, peanuts and honey, the beer really captures the irresistible taste of Crunchy Nut."
---
"We know that Kiwis love breakfast cereals at all times of the day – now Crunchy Nut fans can have one of their favourite cereals for breakfast and then enjoy the unique Crunchy Nut taste in their afternoon or evening cold ale.
"Working with the team at Hallertau to bring this to life was a no brainer, and we're really looking forward to hearing what people think."
Hallertau Brewery captain of beer Stephen Plowman said: "We had a lot of fun making this and experimenting in the brewery process.
"From the addition of lactose to give it a milky finish, to the use of local kiwifruit, peanuts and honey, the beer really captures the irresistible taste of Crunchy Nut."
Hallertau Crunchy Nut Sour Ale can be found on tap here: Lovebucket, Hallertau, Brewers Co-op, The Bottle Stop, Fine Wine Delivery Co stores, The Beer Spot, Hoppers Garden Bar, The Lumsden Free House, Brew on Quay, The Chamberlain, Brothers Beer Juke Joint, Brothers Beer City Works Depot, Brothers Beer Orakei, and The Northern Line.
---