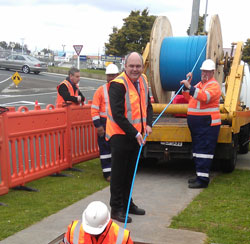 Vodafone is welcoming confirmation that the promise to open fibre networks to increased competition will remain as a key feature of the New Zealand communications market in 2020.
"The Government's decision to retain the existing unbundling requirements will allow us to unlock the full potential of the Ultrafast Broadband (UFB) Initiative," says Vodafone ceo Russell Stanners.
"The Government, on behalf of all New Zealanders, has made a huge bet on fibre through UFB, with the full economic benefits set to tally into the tens of billions.
"Fibre unbundling goes to the very heart of this. Access to the underlying fibre infrastructure is essential for driving innovation, investment and competitive pricing for Kiwi consumers.
"We've looked at countries, like Singapore, where fibre unbundling is well established. In those markets, it's clear that unbundling is driving a new wave of investment and innovation that is driving uptake and economic growth."
---