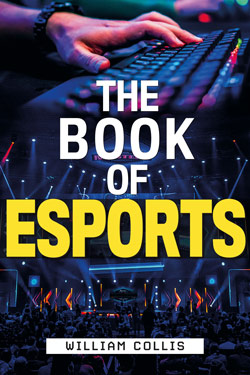 PROVIDENCE, RHODE ISLAND, Wednesday: A major new book on the esports (competitive gaming) industry has just launched. And the author, William Collis, has a Kiwi connection.
The Book of Esports – The Definitive Guide to Competitive Video Games launched yesterday to strong reviews from industry insiders and academics.
Colleges and universities around the world are adopting the book as part of newly forming esports curricula. A TED talk and Harvard Business School case study, based in part on the book, have already been announced.
Author William Collis isn't shy about embracing his New Zealand heritage – his mother grew up Wellington (she's ed Gapes's sister.)
"New Zealand has been getting a lot of love from the gaming community recently from industry luminaries like Gabe Newell (of Valve software) heaping praise on the country for its hospitality and kindness," he told M+AD (by email from the US).
"I'm just glad I can do my part by representing New Zealand, in some small way, in the exciting new industry of esports.
---
"A TED talk and Harvard Business School case study, based in part on the book, have already been announced."
---
"Perfect for a lifelong gamer, a curious Fortnite parent, or a businessperson seeking to understand the marketing opportunities of this multibillion dollar phenomenon, The Book of Esports charts the rise of this exciting new industry, for the first time ever crafting a comprehensive overview of esports and its implications for human competition—and even the future of humanity itself.
"The Book of Esports answers:
What exactly are esports, and how did they become so popular so quickly?
How do you create a billion dollar esports business? What strategic choices drive success in the modern gaming industry?
Why did blockbuster video games like League of Legends, Fortnite and Starcraft succeed?
Where exactly is all this video gaming headed? What is the future of esports, and what does it mean for your business?
"Consider checking out The Book of Esports – and seeing why gaming may be in the future of all New Zealanders!"
The book costs $NZ19.18 (hardcover), or $NZ11.70 (Kindle).
---