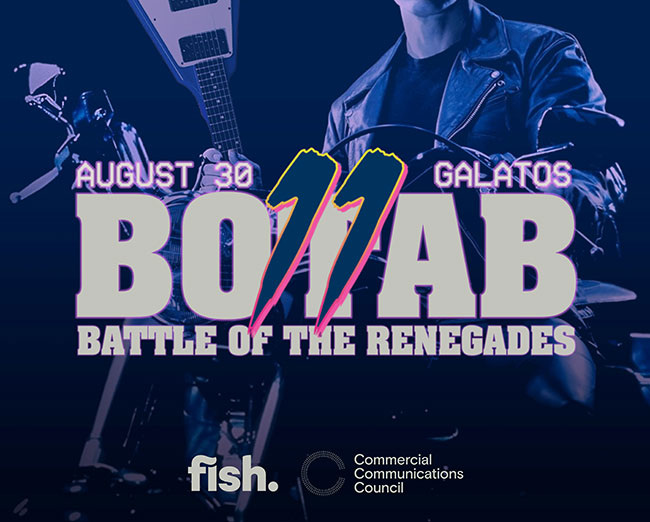 Band practice has begun, the wildcards are drawn and the entries are now closed for the 11th Battle of The Ad Bands.
"If you didn't get asked to join your agency's band, don't worry, you can still don your leather jacket and rock out like Hendrix," says the Comms Council's Katie Ward.
"The competition is looking fierce with some reputable ring-ins on board and, if pride and glory don't motivate people enough already – there are some great prizes at stake thanks to some truly epic sponsors.
---
"Sponsors: Apex Insurance, Fortis Travel, My Food Bag, eighthirty, Prego, MuchMoore, Event Cinemas, Whittaker's, Soar Print."
---
"Join us on August 30 at our new home Galatos and let's show 'em what Botab is all about."
Tickets available from Monday 13 August.
"A huge thank you to our sponsors: Apex Insurance, Fortis Travel, My Food Bag, eighthirty, Prego, MuchMoore, Event Cinemas, Whittaker's, and Soar Print."

THE WILDCARDS
Saatchi & Saatchi, 99 Problems, Jay Z
Fish: We're Not Gonna Take It, Twisted Sister
Ogilvy: You Oughta Know, Alanis Morissette
Colenso BBDO: I Want to Break Free, Queen
Barnes, Catmur & Friends Dentsu: Fight the Power, Public Enemy
FCB: Love Will Tear Us Apart, Joy Division
MBM: (You Gotta) Fight For Your Right to Party, Beastie Boys
Digital Arts Network: Firestarter, The Prodigy
99: Another Brick in the Wall Pt 2, Pink Floyd
Theme: Battle of the Renegades
Date: Thursday 30 August, 6:30pm
Venue: Galatos
Website: www.botab.co.nz
Facebook: facebook.com/BattleoftheAdBands
View the high-stakes wildcard draw video here
---