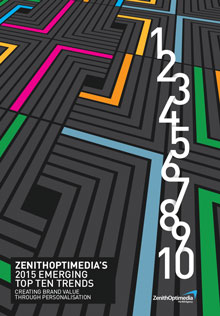 Brands will increasingly embrace new technologies to help them create powerful, personalised experiences for consumers, according to a key prediction from ZenithOptimedia in its latest consumer insights report, 2015 Emerging Top Ten Trends. 
In the global study, ZenithOptimedia looked at how new technologies are set to impact retail, media and entertainment and how brands are likely to leverage these innovations to create personalised consumer experiences as part of their communication strategies.
"Focusing on how changes in technology are set to change behaviour among Millennials, we assessed the new types of personalised experiences that brands might create along the consumer journey to better engage this audience," said the company's Sydney-based Australia & NZ ceo Ian Perrin.
"We have distilled these owned media-fuelled experiences to 10 key emerging trends."
Video Explosion: Branded content on demand
ZenithOptimedia expects online video to account for 12% of all digital adspend in 2015. With some consumers abandoning traditional TV entirely, online video is going to emerge as a mainstream alternative to linear TV. More brands will become content creators, partnering with online celebrities to create video content tailored for specific audiences.
Proximity Marketing: Beacons light the way
Proximity marketing has been around for a while, but is set to move to a new level with the introduction of beacon technology – a low-power radio transmitter that sends Bluetooth signals with real-time information to customers' smartphones. Brands will increasingly use this technology to provide consumers with relevant offers and services and to create localised experiences.
Retails Scents: The smell of success
Pioneering brands are tapping into advances made in the use of scents and fragrances to change moods, enhance emotions and create experiences. Book publishers are starting to experiment with fragrances aligned to specific chapters and the Ophone enables you to send scented messages.
Social Personalisation: Beyond friend recommendations 
Friend recommendations on social media have been helping to drive brand choice for several years. However, we believe this phenomenon will move to a new level this year, giving rise to 'social personalisation'. Supported by brands, people will be able to take greater control of the creation of personalised online consideration lists and in the identification of people that give them recommendations.
Custom-Fit: Technology drives personalisation
Technology that enables people to customise their favourite products will move further into the mainstream this year. At CES 2015, we saw an array of affordable 3D printers that will hit the high streets. This is a real game changer, putting consumers in far more control of the way that they engage with brands and personalise products.
Photo shop: From image to purchase
While attention is rightly focused on the growth of online video, technological innovations are turning online images and the 'visual web' into a powerful means of personalised shopping.  Sales channels are starting to be built behind image sites, and brands will be investing in higher quality visuals to engage consumers through the likes of Pinterest.
Swipe Right to Shop: Mobile interfaces cross genres 
Pioneered by dating apps such as Tinder, the interface that enables you to swipe right for like is becoming so commonplace and effective that it is being adopted by other online sectors, such as fashion retail. The simple 'like' functionality is being used to help people create personalised consideration lists. We expect other mobile interfaces to cross genres during 2015.
Smart Sensors: Automation Becomes Reality
Sensors are increasingly enabling us to connect with an ever larger number of devices around us, and this heightened connectivity is helping us to automate our lives. While much of the discussion in recent years has been of future potential, the affordable reality of sensor-enabled connectivity was clear for all to see at CES 2015. Connectivity and automation is set to enable brands to create online, concierge services for consumers, driving personalised engagement.
Brand Storytelling: Technology Changes the Plot
Brand storytelling is set to become far more immersive with the integration of different types of media, made possible by new interactive technologies. Consumers will benefit from seamless integration of content across devices. Brands will be able to tell better stories using carefully tailored content that works across multiple platforms.
Geotainment: Socialise your surroundings
Millennials are increasingly looking to engage with their environment and surroundings and geolocation technology is being adapted to facilitate this. Brands will discover new opportunities to use location-based messaging or create immersive location-based experiences.
ZO strategic insights director Linda Tan said: "Brands that are increasingly focused on their 'purpose' are set to benefit from a range of emerging technologies that will enable them to create more authentic and valuable experiences for consumers. Creating personalised experiences across the consumer journey will become critical for brands seeking sustainable return on investment."
About ZenithOptimedia
ZenithOptimedia – www.zenithoptimedia.com – is a leading global media services network with over 7,400 people working in 262 offices across 74 countries. We are part of Publicis Groupe, the world's third largest communications group, and the world's second largest media counsel and buying group. As the first agency to apply a rigorous and objective approach to improving the effectiveness of marketing spend, ZenithOptimedia delivers to clients the best possible return on their communications investment. This philosophy is supported by a unique approach to strategy development and implementation across the full spectrum of paid, owned and earned contact points – the Live ROI planning process. The ZenithOptimedia Group of companies equips our clients with a full range of integrated skills across communications planning, value optimisation, performance media and content creation. Our key clients include Armani Group, ASUS, Aviva, BBC Worldwide, Bacardi-Martini, Electrolux, General Mills, Lactalis, LVMH, Nestlé, News Corporation, L'Oréal, Oracle, Puma, Qantas, Reckitt Benckiser, Richemont Group, Royal Bank of Scotland, Sanofi, SCA, Toyota/Lexus, Verizon and Whirlpool.
---