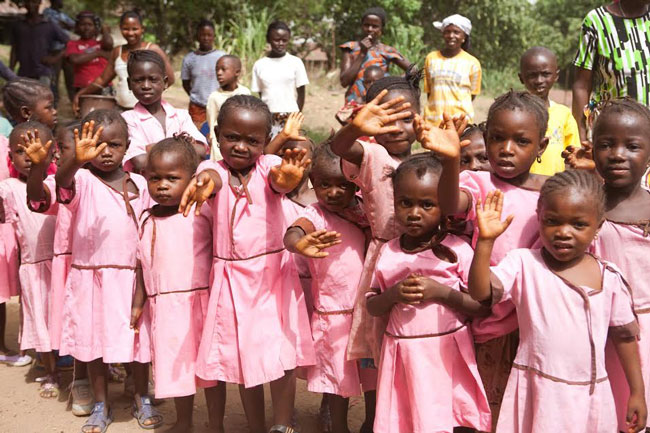 New York, NY – January 17: New York Festivals Torch Awards, a unique creative competition for young creatives 18-27 years old, has opened for entries, and partnered with Today, I'm Brave, a registered nonprofit, whose dynamic mission celebrates people performing Brave acts every day and everywhere.
"Today, I'm Brave's intention is to inspire others to conquer their fears—because when we're Brave, we can accomplish anything," says Today director of philanthropy Kristen Knape.
Today, I'm Brave's initiative started out as a social experiment to inspire an Ebola-stricken community in Sierra Leone, and has evolved into a non-profit designed to inspire bravery within people and organizations around the world.
Since the movement started a year ago, Today, I'm Brave has amassed over 110,000 followers and made 7.5 million online impressions.
"We are excited and honoured to have talented young creatives throughout the world help us raise awareness of our brand," said Knape.
Read the book
"With our upcoming book, also titled Today, I'm Brave, it made perfect sense to partner with the Torch Awards to get a world-wide perspective in order to help us best inspire Bravery for positive change."
The Today, I'm Brave movement has inspired people to share a variety of stories, videos and pictures of their courage when facing their fears and creating great change in their lives. The triumphant stories shared by individuals overcoming daily challenges have helped people around the globe.
The 2017 Torch Awards challenge brief invites entrants to develop and pitch an idea for an integrated-mixed media campaign to promote Today, I'm Brave's international book release this August. The Torch Awards Grand-Winning Team will also have the chance to further develop their idea with Today, I'm Brave and see it go live.
Today, I'm Brave will expand their outreach by hosting their first-ever speaker event featuring a line-up of inspirational speakers on the topic You're Braver than You Think.
Speakers include David Angelo, founder & chairman of David&Goliath; Ryan Blair, best-selling author, entrepreneur and venture capitalist; Cecilia Gorman, motivational speaker, trainer, coach; comedian Leo Flowers; and motivational speaker & author Garrain Jones.
Proceeds go to the kids
Proceeds from the event will benefit the 62 children who were orphaned by the Ebola crisis in Sierra Leone providing food, healthcare and a greater education.
Since its creation, Today, I'm Brave has raised awareness for numerous worthy causes including: Shine On Sierra Leone; Children's Hospital of Los Angeles; New Directions for Veterans; Teach for Armenia; Crohn's and Colitis Foundation of America; Healing Night of Comedy; Project Angel Food and A21, a nonprofit  to abolish human trafficking injustice.
Today, I'm Brave is dedicated to impact the following areas in 2017: Education, Cancer Research, Veteran's Issues, Betterment of Los Angeles, Brave Ambassador Causes, and Creation of education video and speaker events. Specific programs include: Today, I'm Brave Speaker Events; developing a Today, I'm Brave online educational tool; securing Brave video sponsorships; partnering with corporate programs, and continued micro donation and merchandise sales.
The 2017 Torch Awards submission deadline is Friday 17 February. Finalist teams will be announced on Monday 3 April.  The grand-winning team will be announced and awarded live at the New York Show, taking place Thursday 18 May at Jazz at Lincoln Center's Frederick P. Rose Hall in New York City.
Entries to each of the competitions are judged around the world by panels of peers in their respective industries.
---