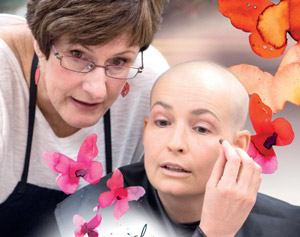 New Zealand cancer charity Look Good Feel Better has undergone a makeover of its own with the help of Brother Design. The first in a series of above-the-line print ads will launch during an awareness campaign for Feel Better Month in July and beyond.
The campaign will feature in magazines from July, and will showcase the new international Look Good Feel Better logo and use imagery sourced locally from recent Look Good Feel Better workshops.
Brother Design business director Jenny McMillan says she's very proud of the work her team has produced.
"Everyone loved working with Look Good Feel Better. It's such a fantastic, much-needed charity, and the work they do makes an amazing difference to people. Just about every Kiwi has been touched by cancer, whether it's personally or a friend or family member.
"The campaign works because it speaks from the heart in a simple, unaffected way."
---
Brother's approach came from reading first-hand accounts of women with cancer attending the workshops. Creative Lead Debbie Hyde, who art directed the campaign, says the words struck a chord.
"The effect on people's sense of confidence and well-being jumped out immediately," she said. "Our creative job was to refine those accounts into something sharp and compelling that would explain what the charity does and make people want to help."
Look Good Feel Better general manager Clare O'Higgins says these images and the personal stories that inspired the creative demonstrate just how Kiwi women benefit from the free services both in a practical and an emotional sense.
"As a national charity we are known to be practical and down to earth in our approach. We felt it was important to reflect that in our advertising so that New Zealanders could relate to real people in real life situations rather than models.
"The women appearing in our campaign have all experienced cancer and the positive impact of attending a Look Good Feel Better workshop. We felt their images and stories were the best way to communicate that to others and the team at Brother Design agreed.
"The Brother Design team were brilliant at unmasking what we do. They truly understand what we're trying to achieve and have developed a campaign we are very proud of.
"Not only have they designed the print element, they've also created the brand positioning, merchandise design and Feel Better Month collateral. It's given us a platform to build on as we reach out to all the New Zealanders with cancer who need our help.
"We are also appreciative of the generous support we receive from print media. Without that commitment these great ads would not be seen," adds O'Higgins.
In generating greater national awareness, Look Good Feel Better hopes to provide more free workshops for women and teenagers dealing with the visible side effects of cancer treatment. Their goal is bring back smiles to those with cancer to improve not just their look but their outlook too.
Look Good Feel Better's new website design goes live in August. Meanwhile, you can find them at www.lgfb.co.nz and facebook.com/LookGoodFeelBetterNZ.
CREDITS
Creative Lead: Debbie Hyde (Brother Design)
Copywriter: Mario McMillan (Büro)
Photography: Peter Meecham
Business Director: Jenny McMillan (Brother Design)
---