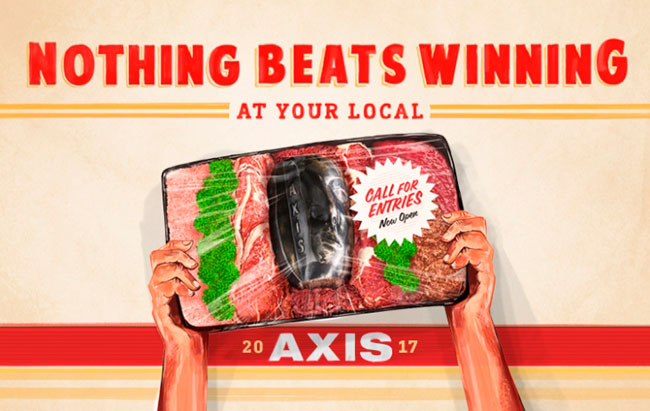 CAANZ has announced the entry call for NZ's premier creative awards, Axis 2017 – to be held at the Viaduct Events Centre on Thursday 16 March.
In accepting the role of convener of judges for 2017, Ogilvy ECD Regan Grafton reflected on the importance of local wins. "I recalled the words of my late, great boss: Gordon Clarke. He said: 'Regan, it's great winning overseas, but there's nothing like winning at home'.
"The Axis Awards are a celebration of our industry's hard-fought work and the ads that have moved, provoked and shaped New Zealand culture. Furthermore, it's a chance for us to get together celebrate the incredible industry we've created. It's our show."
Grafton will be joined in the jury room by Special Group ceo Michael Redwood as Chair, alongside Brigid Alkema (ECD, Clemenger BBDO Wellington), Shane Bradnick (ECD DDB), Tony Clewett (ECD FCB) and Christy Peacock (ECD, TBWA Auckland).
The International judges will also join the New Zealand panel and will be announced soon.
In 2017, there will be two entirely new categories, expansion of several others, and a significant rule change around eligibility.
Categories have been added for Branded Content (to reflect the continued growth of consumers online) and Media (to recognise creative work enhanced by the creative use of media). There have also been additions under Direct Marketing, Promo/Activation, PR, and Charity.
For the first time in 2017, to ensure that all the excellent creative work from New Zealand is recognised, even work created and developed here but only run internationally will be eligible for entry. (Proof will be required that the work originated, was developed and creatively led in New Zealand.)
CAANZ is also encouraging collaborators and associates from outside advertising agencies to enter work in Axis 2017 – particularly in the Craft, Design and Branded Content categories – including typographers, photographers, design agencies, commercial businesses, freelancers or production companies.
CAANZ ceo Paul Head says the changes mean Axis can better recognise and celebrate the best New Zealand has to offer.
"It's the great ideas that have innovated, inspired and engaged – ideas that have captured attention and become part of popular culture; ideas that have transformed our clients' businesses; the best work from our industry, no matter where in the world it ran.
"But Axis still is, and always will be, about work created locally. So, good luck at your local."

AXIS AWARDS 2017 – KEY DATES
Entries close: Tuesday 24 January (at 4pm)
Late entry deadline closes: Thursday 26 January (at 4pm)
Finalists announced: Tuesday 21 February
Tickets on sale: Wednesday 22 February
Axis Speaks – The Creative Speaker Event: Thursday 9 March
Awards Show (Viaduct Events Centre): Thursday 16 March
---