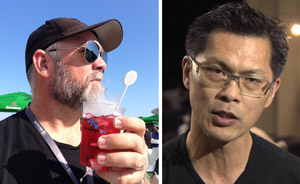 "This is a big planet. I know, I'm facing 30 hours of travel to get home. So I think we live in a place where the Kanyes and Bonos both have a job to do.
"And I'm gonna carry that insight with me when I go back to my job."
– FCB senior creative Peter Vegas.
And this, from PV's boss, FCB Asia Pacific ECD James Mok:
"I was fortunate enough to attend Cannes again this year – a pretty good result for NZ considering how tough it is to win.
"I thought there was a major trend to simplify ideas and the level of demand campaigns put on consumers to engage to get the message.
"Technology is enormously influential but there was a backlash against technology for tech-sake.
"When you look at the advertising Grand Prix winners, I reckon you can see a simplicity of idea and execution that delivered a strong message and experience immediately."
---