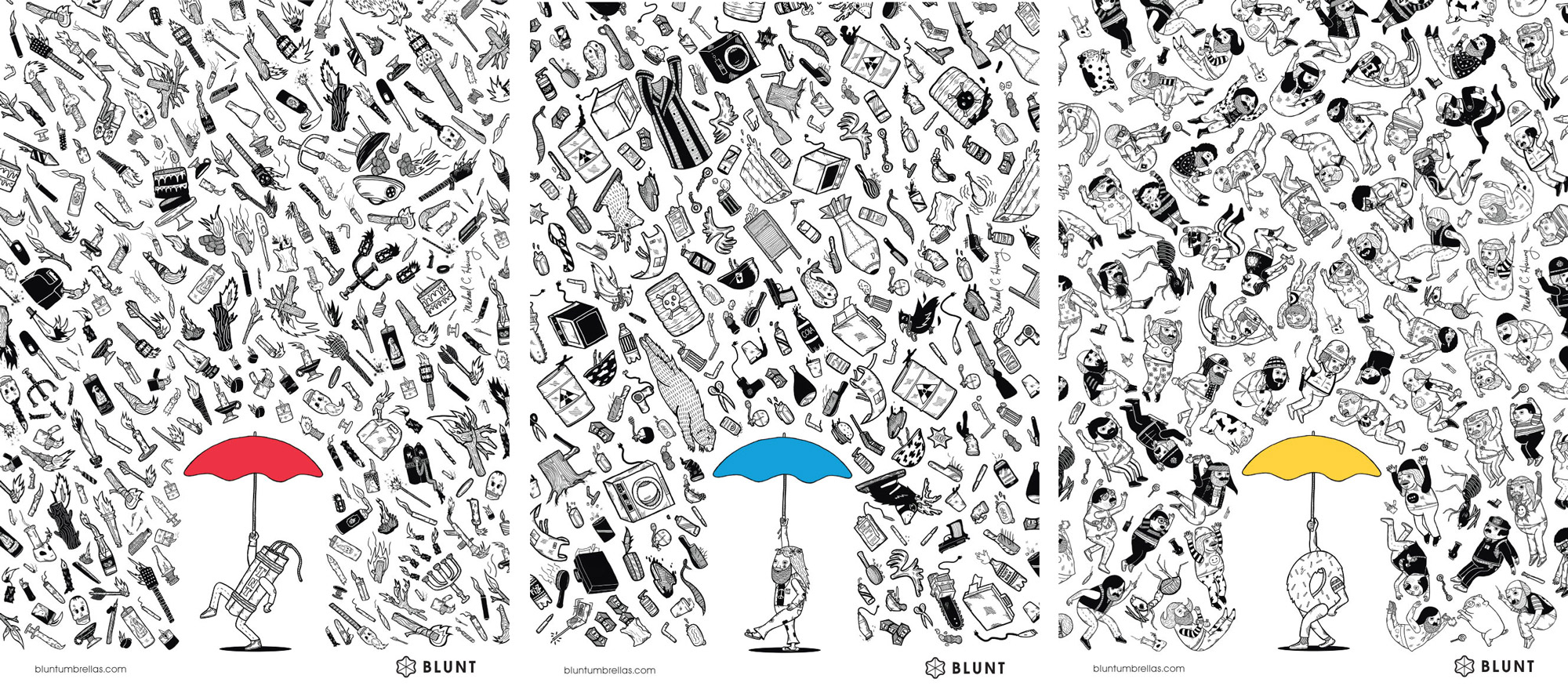 Y&R has collaborated with LA artist Michael C Hsiung to produce a series of posters to market Blunt Umbrellas.
The functional element of the brollies is illustrated in the subject matter of each scenario. Various characters are rained on from above – not by water – but by objects that would otherwise cause them displeasure or comedic harm.
A walking doughnut is safely sheltered from hungry stoners, fat policemen, and chubby children. A stick of dynamite takes shelter from objects that could light his fuse and end his days. And a nonchalant hippy takes refuge from animal furs, shaving cream, and pesky job applications.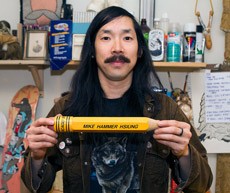 The design appeal is evident in the macroscopic detail built into each execution. Michael C Hsiung, whose quirky style has earned him a large following, laboured over each individual object, making sure the visual appeal of the final posters was befitting of the umbrellas themselves.
Blunt claims to make "The World's Best Umbrellas", with functional and aesthetic appeal in equal measure.
"The guys at Blunt are a fantastic group with an equally amazing product," said Y&R Associate Creative Director Tom Paine. "And Michael is a disturbingly talented illustrator that I've wanted to work with for many years. The planets aligned on this one, and we're looking forward to the next."
The Hsiung-illustrated series is the first iteration in an ongoing platform for Blunt, with plans to continue the series by collaborating with other artists, designers, and innovators in the future.
CREDITS
Executive Creative Director: Josh Moore
Creative Director: Tom Paine
Creatives: Tom Paine, Carlos Savage
Production company: Mcdermott Management
Agency Producer: Christina Hazard
Illustrator: Michael Hsiung
Head of Design: Musonda Katongo
Designer: James Wendelborn
General Manager: Abbe Hale
Senior Account Manager: Mike Keen
Blunt Managing Director: Scott Kington
Blunt Design Director: Greig Brebner
Blunt Global Brand Manager: Josh Page
---