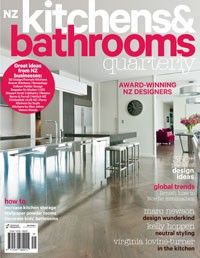 The building boom in Christchurch is also boosting the home improvement magazine sector. Typical of these is Kitchens & Bathrooms Quarterly NZ – the region (with 13% of the population) provides 20% of the magazine's national sales.
"We believe our success is due to several factors within the wider Christchurch rebuild picture," says the magazine's NZ manager, Barbara-Anne Kerr, a passionate promoter of her title.
"We have a stronger presence in Countdown stores; wider distribution via bookshops, dairies and other independent retailers; and the fact that our magazine offers more ideas for the price than any other publication.
"Also, Netlink markets us nationally.
"I have been running this magazine for five years now and we are going great. And I have found it a pleasure to work with kitchen & bathroom-related advertisers and designers."
Nationally, she says, Kitchens & Bathrooms Quarterly NZ has posted a 17% increase in circulation.
About Kitchens & Bathrooms Quarterly
Kitchens & Bathrooms Quarterly sits within the Complete Home Group at Universal Magazines (universalmagazines.com.au).
The NZ edition
"For the last four or five years, Kitchens & Bathrooms Quarterly NZ has offered more NZ kitchens than any other publication on the market," said Publisher Janice Williams.
"Not bad considering its humble origins as an Australian magazine, produced in Singapore. We're thrilled that Kiwi readers are going for the value that we offer – more than 350 pages of ideas and some of the best ones from NZ.
"When it comes to renovating a kitchen or a bathroom, consumers want a level of detail that generalist magazines can't provide."
---