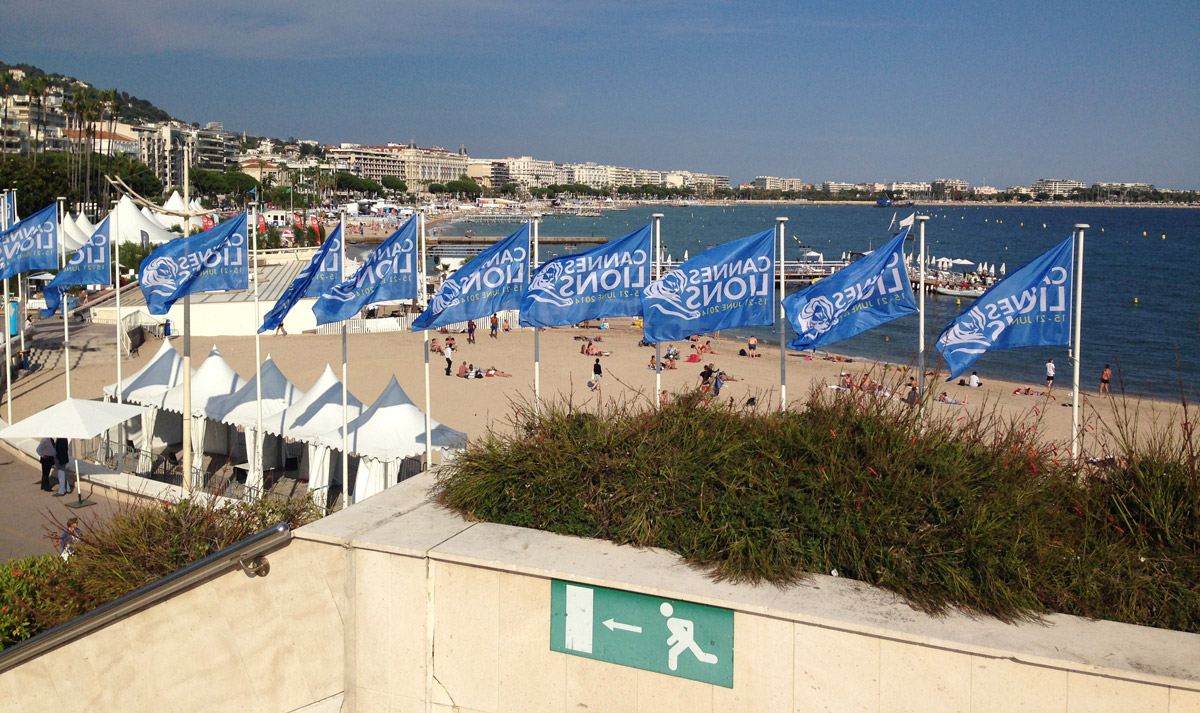 Clemenger BBDO Wellington finished full of running as the Cannes Ad Festival drew to a close yesterday, winning triple Gold – a prized Gold Film Lion and two Gold Film Craft Lions (plus a Silver). DDB scored a Bronze Film Lion.
Clemenger's Gold Film Lion – one of only 13 in the Film category – was for NZ Transport Agency Mistakes (the film company was Finch). DDB won a Bronze Film Lion for Steinlager Be the Artist. 
The film co was The Sweet Shop.
Clemenger's NZTA drug driving spot Blazed cleaned up in the Film Craft Lions at the weekend, winning two Golds and a Silver. The producer was Curious Film Auckland.
Blazed won Gold in the Script and Casting categories. The Silver Lion was won in Direction.
Two Grand Prix award were handed out in Film – to Adam&EveDDB London's Sorry I Spent It On Myself (hilarious) for Harvey Nichols and Forsman & Bodenfors Sweden for The Epic Split (Jean-Claude Van Damme's finest moment:
Australia scored no Gold Film Lions – taking home just two Silvers and three Bronzes.
Both NZ and Australia came away empty-handed – no Lions and no shortlists – from the Titanium & Integrated, and Innovation categories. NZ also did not register in Branded Content & Entertainment (Australia won a Silver).
NZ's Val Morgan-sponsored two Young Lions teams – Nick Dellabarca & Craig McLeod of DDB for the Film competition and Harriet Finnigan & Brendan Hewitt of SparkPHD for Media performed in Cannes with distinction – but no wins.
Other awards presented at the closing ceremony were:
Agency of the Year was given to Adam&EveDDB, London. Dentsu, Tokyo came second and AlmapBBDO, São Paulo third.
Independent Agency of the Year went to Forsman & Bodenfors, Gothenburg. Second place went to Lemz, Amsterdam and third to Wieden + Kennedy, Portland.
The Palme d'Or, given to the most awarded production company, was presented to MJZ, USA. O Positive Films, USA came second and Outsider, UK third.
The Network of the Year award was presented to Ogilvy & Mather with BBDO taking second place and DDB in third.
The inaugural Regional Network of the Year winners were announced as: APAC –BBDO, EMEA – DDB, North America – BBDO, South America – Ogilvy & Mather
Also awarded was the Holding Company of the Year which went to WPP. Omnicom took second place and Publicis third.
The coveted Creative Marketer of the Year trophy was presented to McDonald's in honour of their consistency in placing creativity at the heart of its advertising and communications and distinguishing themselves by inspiring innovative marketing of their products. Steve Easterbrook, Senior Executive Vice President and Global Chief Brand Officer, was present to collect the accolade.
The winners of the Young Lions Film Competition were also announced, with the Bulgarian team, Vladimir Gerasimov and Zhelez Atanasov winning the Gold medal.
The Young Marketers Competition saw the dedicated jury award the team from Russia, Marisol Diaz Rozic and Marianela Frick from Pepsico, with the Gold medal.
Here's the official Cannes wrap release …
AS 61st FESTIVAL DRAWS TO A CLOSE
UK, SWEDEN, JAPAN, THE NETHERLANDS & RUSSIA
WIN GRANDS PRIX
21 June 2014 – The Cannes Lions International Festival of Creativity, the world's leading celebration of creativity in communications, has announced the final winners that will take home trophies from the 2014 awards.
Of the 2838 entries in the Film category, the jury, led by Amir Kassaei, Chief Creative Officer, DDB Worldwide, shortlisted 280 entries of which 13 were awarded Gold, 29 Silver and 61 Bronze Lions. The jury awarded two Film Grands Prix. In the TV/Cinema category, Adam&EveDDB London, UK, took the Grand Prix for the Harvey Nichols ad 'Sorry I Spent it on Myself', while in the Internet Film or Other Screens category Forsman & Bodenfors Gothenburg, Sweden, were awarded the Grand Prix for their campaign 'The Epic Split' for Volvo Trucks.
In the Film Craft category, 2073 entries were received. Brian Carmody, CEO, Chief Creative Officer, Smuggler, presided over the Film Craft jury who shortlisted 135 entries and awarded 16 Gold, 22 Silver and 28 Bronze Lions. No Grand Prix was awarded in this category.
During the ceremony, the Branded Content & Entertainment Grand Prix winners were presented with their trophies by jury president Doug Scott, President, Founder, OgilvyEntertainment. 1178 entries from 62 countries were received into this category of which 91 were shortlisted and 11 gold, 20 silver and 35 bronze Lions were awarded. No Grand Prix was awarded in this category.
In the Innovation Lions category, which saw shortlisted entrants presenting their work to the jury which was presided over by Tom Bedecarré, Chairman, AKQA, President WPP Ventures, 206 entries were received and 30 shortlisted. Winning Russia's first Grand Prix, the Innovation Grand Prix went to Megafon Moscow / Axis Moscow / Asif Khan Ltd London, Russia, for their Megafaces Pavilion at the Sochi 2014 Winter Olympic Games. Elsewhere, 3 Innovations Lions trophies were also given.
In the Titanium and Integrated category, the jury voted on 378 entries to reach a shortlist of 16 for Titanium and 20 for Integrated, of which 1 gold, 2 silver and 5 bronze Integrated Lions were awarded and 3 Titanium Lions given. The highly sought after Titanium Grand Prix, awarded for truly ground-breaking work, was presented to Dentsu Tokyo for 'Sound of Honda / Ayrton Senna 1989' for Honda Motor Co. Adam&EveDDB London, UK, took their second Grand Prix of the night, winning the Integrated Grand Prix for 'Sorry I Spent it on Myself' created for Harvey Nichols.
The Titanium and Integrated Jury was also responsible for awarding the Grand Prix for Good. From a list of 32 contenders – made up of gold Lion winners from across all charities & public services categories ineligible to win a Grand Prix in their own awards section – the accolade was presented to Lemz, Amsterdam, The Netherlands, for 'Sweetie' created for Terre des Hommes Netherlands. The Titanium and Integrated jury was presided over by Prasoon Joshi, Chairman, CEO, Chief Creative Officer, India/South Asia, McCann Worldgroup.
During the awards, Joe Pytka was honoured and presented with the Lion of St. Mark, presented in recognition of his outstanding contribution to creativity in advertising and communications.
Cannes Lions has been attended by 12,000 delegates and seen seven days of non-stop content delivered by more than 500 speakers, over 37,400 pieces of work showcased at the Festival, inspirational academies, seven young lions competitions, four awards shows, two galas and unrivalled networking opportunities throughout. Visit the Cannes Lions YouTube page here, to catch up on the highlights of the week or the official website, canneslions.com, to view the winners of the 61st Cannes Lions awards.
The International Festival of Creativity, also known as Cannes Lions, is the world's leading celebration of creativity in communications. Founded in 1954, the Festival takes place every June in Cannes, France.
As the most prestigious international annual advertising and communications awards, over 37,400 entries from all over the world are showcased and judged at the Festival. Winning companies receive the highly coveted Lion trophy, a global benchmark of creative excellence,  for Film, Print, Outdoor, Interactive, Radio, Design, Product Design, Promo & Activation, Film Craft, Mobile, Branded Entertainment and Integrated advertising, as well as the best Media, Direct, PR, Titanium, Creative Effectiveness and Innovation ideas. The Festival is also the only truly global meeting place for advertisers, advertising and communication professionals.  Around12,000 delegates from more than 90 countries attend a week-long programme of exhibitions, screenings and talks by worldwide thought leaders. As the networking and learning opportunity of the year, Cannes Lions is the must-attend event for anyone involved in brand communications.
Photos from the 2014 awards can be viewed here.
About Lions Festivals
Lions Festivals is the organiser of Cannes Lions International Festival of Creativity and Eurobest as well as co-organisers, with its joint venture partners, of Dubai Lynx International Festival of Creativity, Spikes Asia Festival of Creativity, Festival of Asian Marketing Effectiveness, and the Digital Asia Festival. lionsfestivals.com
---