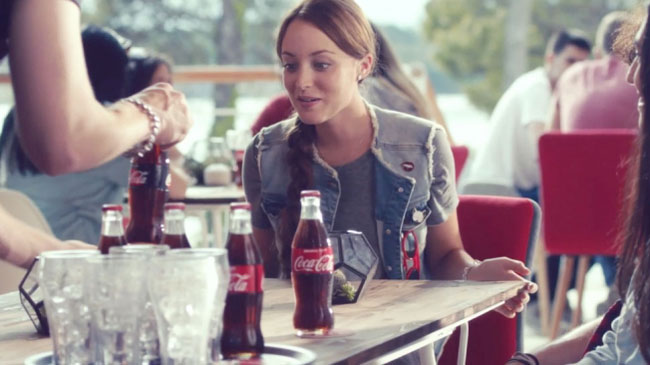 David, The Agency has used some sleight of hand to debut a new look for Coca Cola. In the 'Taste the Magic' spot David has used Vegas performer and social media star, Justin Flom to perform some magic with Coke's new packaging.
In Taste the Magic, Flom plays a waiter who, as if by magic, transforms a regular bottle of Coke into a Coca-Cola Zero. Encouraged by his enthusiastic table he then says: "I feel you want the crisp taste of Coca-Cola, without calories. So I'll give you Coca-Cola Light."
As The Drum writer Angela Natividad observes: "That little gender reversal is interesting. Zero has historically been marketed to men, while women prefer Light (which in the U.S. is called Diet), which also has stronger associations with the fashion industry. This subtle shift is magic we weren't expecting!
"He goes on to turn another Coke into a Coca-Cola Life, which we didn't realize anybody drinks, and, because the normal Coke is the brand's stronghold, we end with a lady finding one in her handbag. It's fun for the whole family.
"You may also have noticed that the packaging is subtly different, with Coca-Cola's red disc taking precedence in all variations of the product. This is part of Coke's new "One Brand" strategies to pull the disparate offerings closer together. Flom also uses a red disc-shaped coaster in his first table trick, subtly reinforcing that association, and brings it back for the ending, which introduces the fresh new iconography.
"That's a lot of change to wiggle in, so it's apt that transformation is the topic the ad plays with. What better way to change your identity than by magic? You have less to explain that way, and getting people to focus on the magician, instead of the new branding, may redirect them from other awkward conversations they could be having instead."

CREDITS
Client: Coca-Cola
Product: Coca-Cola, Coca-Cola Zero, Coca-Cola light, Coca-Cola Life
Title: "Taste the Magic"
Agency: David
Executive Creative Directors: Joaquín Cubría, Ignacio Ferioli
Creative Director: Nacho Coste
General Account Director: Emanuel Abeijón
Account Director: Lucila Castellani
Account Executive: Florencia Scrimaglia
Planning Director: Javier Quintero
Head of Production: Brenda Morrison Fell
Director: Martin Romanella
Production Agency: argentinacine
Executive Producers: Nano Tidone, Laura Passalacqua
Producer: German Escande
Postproduction House: Pickle House
Music: "Taste the Feeling" by Conrad Sewell
---