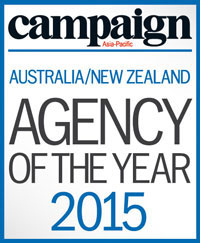 NZ agencies Colenso, DDB, Special Group, Barnes Catmur, ZenithOptimedia and OMD are the Kiwi shops to make the finals for the Campaign Asia-Pacific Australia/New Zealand Agency of the Year.
The NZ Creative Agency of the Year will be contested by Colenso, last year's winner DDB NZ, and Special Group, while Barnes Catmur & Friends are two of the five on the Australasian indies shortlist
Many categories, however, are dominated by Australian agencies – with Kiwis thin on the ground (for many reasons – awards fatigue being one of them).
The winner list will be preannounced on Friday 27 November and the celebratory gala dinner will be held on Thursday 10 December at The Ritz-Carlton, Singapore.
New Zealand Creative Agency of the Year
Colenso BBDO
Special Group
DDB
New Zealand Digital Agency of the Year
Colenso BBDO
Special Group
DDB
Australia/New Zealand Independent Agency of the Year
Barnes, Catmur & Friends, Auckland
Special Group, Auckland
Cummins&Partners, Australia
Atomic 212, Australia
Affinity, Australia
Australia/New Zealand PR Agency of the Year
Red Agency Australia
Haystac Australia
Weber Shandwick Australia
Edelman Australia
Eleven Australia
Australia/New Zealand Specialist Agency of the Year
Mnet Mobile Australia
WiTH Collective Australia
Outware Mobile Australia
iProspect Australia
Atomic 212 Australia
Reprise Australia
Australia/New Zealand Account Person of the Year
OMD Melbourne: Margie Reid
OMD Sydney: Aimee Buchanan
ZenithOptimedia New Zealand: Alex Lawson
Australia/New Zealand Agency Head of the Year
OMD Australia: Peter Horgan
M&C Saatchi Australia: Jaimes Leggett
Carat Australia: Simon Ryan
Atomic 212 Australia & New Zealand: Jason Dooris
MATCH Media Australia: John Preston
Australia/New Zealand Creative of the Year
M&C Saatchi Australia: Ben Welsh
Australia/New Zealand Planner of the Year
McCann Melbourne: David Phillips
M&C Saatchi Australia: Justin Graham
Australia/New Zealand Talent Management Person/Team of the Year
The Hallway Australia Hannah Sturrock
OMD Australia OMD People & Development Team
M&C Saatchi Australia People and Development Team
OMD New Zealand: Adriana Botha and Erin Jackson
PHD Australia: Erin Jacubans and PHD People Team
Mindshare Australia: Kerry Field
Australia/New Zealand Young Achiever of the Year
Anomaly, IPG Mediabrands Australia: Ankita Agarwal
UM Sydney: Christopher Colter
Red Agency Australia: Natasha Carroll
Mindshare Australia: John Dawson
---