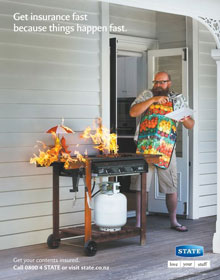 This month's Ad of the Month Agency League judges were kept busy judging ads from both December and January with two agencies receiving points on the Agency League table. 
December saw a win for Colenso BBDO with their State Insurance BBQ ad. Judges Alan Jones (FCB) and Tom Paine (Y&R) said: "it's something we are all guilty of. It was a humorous ad that caught our attention with a novel use of the medium."
Special Mention was awarded to Young & Shand for their interactive LifePod ad which incorporated a digital element as well as press. "It was a great use of the medium with only press being able to accommodate this strategy with the finger print," said Jones & Paine.
Sadly, there was no winner or Special Mentions for January which means February prize pool jackpots to $500. So intending participants should get their entries in.
The Table
DDB still lead the Agency League table; however, December's win for Colenso adds them to the leader board with 5 points, and Young & Shand with 1 point.
News Works' Ad of the Month and Agency League competition is open to any ad that has appeared on a New Zealand newspaper, website or app, or in any print edition. Both digital and print entries vie together for the best monthly accolade, with only one individual ad to be selected top each month – although judges may give special mentions to a number of exceptional ads.
To enter digital or print ads in Ad of the Month and gain points on the Agency League table, go to www.newsworksnz.co.nz/creative/ad-of-the-month/enter
Every monthly winner from 1 July 2014 to 30 June 2015 will automatically be entered into the $10,000 Newspaper Ad of the Year at the end of this year.
CREDITS
Client: State Insurance
Agency: Colenso BBDO
Creative Chairman: Nick Worthington
Executive Creative Director: Steve Cochran
Art Director: Scott Kelly/Shakira Twigden
Copywriter: Ben Polkinghorne
Business Director: Krystel Houghton
Account Manager: Nick O'Donnell
Account Executive: Hannah Wall
Producer: Anna Flaws
Planner: Lisa Divett
Client: Sarah Devonport, channel marketing specialist (IAG); Eve Whitwell, senior channel marketing specialist (IAG); Merran Anderson, GM marketing & communications (IAG)
---