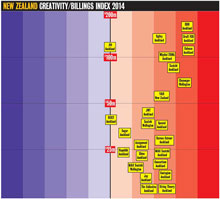 For a record seventh time in the 17-year history of the awards Colenso BBDO is Campaign Brief NZ Agency of the Year. 
"2014 was a brilliant year for Colenso BBDO New Zealand, which once again walked away with top honours from a number of the world's leading advertising shows, both for creativity and effectiveness," said Sydney-based CB ed Michael Lynch.
Read the full report here.
---