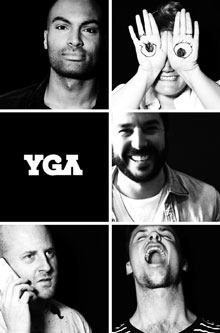 Colenso BBDO have picked up four bullets at the 2014 Young Gun Awards, announced overnight.
Hot on the heels of a Grand Prix at Axis, Beth O'Brien, Oriel Davis-Lyons and Matt Lawson have won gold (Radio Campaign) and bronze (Radio Individual) for Pedigree's K9FM. The radio station for dogs has consistently picked up awards at multiple international festivals including a grand prix at the Spikes and two silver lions at Cannes. 
O'Brien & Davis-Lyons won again in the Mobile category, picking up silver bullet for The Great Monteith's Meatpack Hunt – an augmented reality hunting game that rewards players with real meat packs (matched to Monteith's beer) for virtual kills. This follows the recent success for the campaign at The Caples, Axis and the NZDMAs.
Share For Dogs, a charity campaign for Pedigree done in partnership with Google also earned Ben Polkinghorne and Scott Kelly a bronze in the Digital category. The campaign has received worldwide attention for creating a new model for charities to monetise YouTube videos.
Nick Garrett, CEO of Colenso BBDO said: "The agency's success at Young Guns not only shows the depth of talent that we're lucky to have in the building but it's fitting recognition for Pedigree and Monteith's who keep challenging us with great briefs and always push for fresh thinking and new ideas."
---