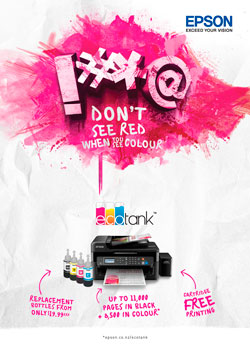 This week sees the launch of the first national Epson campaign for the new range of EcoTank printers. The campaign from Contagion is based on an insight we can all relate to – every time we're on deadline or running late, the printer runs out of ink.
Our turn of phrase may change, but the feelings are universal. But wait – a solution is at hand. This innovative printer range allows people to buy simple cost-effective refill bottles that are a fraction of the cost of cartridges (which can cost the same as the printer.)
Epson's creative and media agency seized on this fact. "People are sick and tired of paying through the nose just to print a school essay," said Contagion managing partner Dean Taylor.
"Since home and small office printers became mainstream in the' 90s, there's been no hint of an antidote to this missmatch in pricing until the Epson Ecotank, a printer that lets people refill ink cartridges themselves.
"It doesn't punish them for wanting to print all they want."
Taylor says Epson's goal with EcoTank is to remove customers' biggest pain points, by providing incredibly low running costs and plentiful ink.
"We're delighted with how Contagion have been able to tell this story powerfully and effectively in our renewed campaign," says Epson GM Simon Rogers.
Contagion ECD Bridget Taylor said: "The best work is always based on a human truth, this campaign is no different. This category is traditionally very unemotional, so it's been a joy to work with a client who understands the need to inject humanity into advertising for maximum impact.
Contagion joint head of media Ryan Jordan said: "We really wanted to exaggerate the impact of endless colour by using innovative demonstrations within Outdoor and Print.
NZME & M2 get involved
"We've also partnered with NZME and M2 to create tailored pieces of advocated content, aiming to break down peoples pre-conceived frustrations with home printers – showcasing a new way of printing has arrived.
"Epson is one of the leading print suppliers in New Zealand. It is their focus on technology and innovation that is at the heart of what they do, this challenger mentality matches the Contagion brand."
CREDITS
Account Service: Timothy Brown, Joseph Rasmussen
Planner: Dean Taylor
ECD: Bridget Taylor
Art Director: Avril Durkan
Copywriter: Claire Herselman
Retoucher: Mike MacKinven
Production: Sean Collier
Head of Media: Ryan Jordan
---