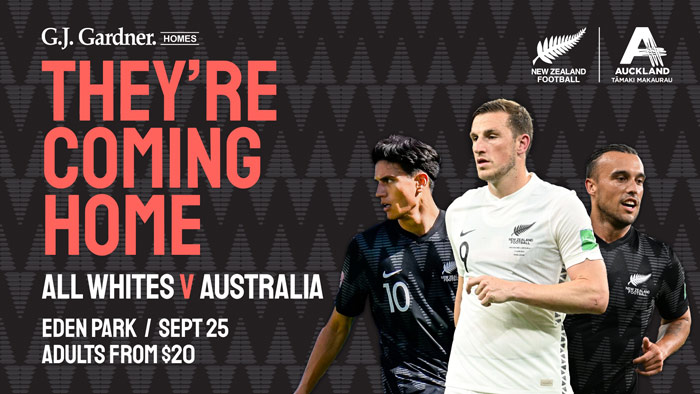 AUCKLAND, Monday: The All Whites play Australia at Eden Park on Sunday 25 September, celebrating 100 years since the first fixture between the teams, as well as the first time they've met in 10 years. to encourage fans to get to Eden Park to support the team, New Zealand Football have teamed up with their creative & media agency Contagion.
Contagion foundeer Dean Taylor said, "Sports matches involving national sides are hugely important for a nation's culture, this is part of the fabric that bonds us togther.
"We are targeting sports fans, lovers of the English Premier League and families who will get the chance to see star international players who have some home to represent their country.
As an agency this is the coolest work to be involved with."
---
"The campaign launched in late August, across OOH, radio, social and digital."
---
Oliver Maisey, ECD and himself a keen footballer, wanted to make sure Kiwis are filling the stadium for this as it is the first time senior international football has been played at Eden Park, "A packed Eden Park is about the same size as a Liverpool FC home crowd, and just as vocal. If we get that then it's job done".
Sophie McDonald, who also felt passionate about this project, explains the media buy, "We knew that the key to this campaign was driving conversions whilst building awareness to demonstrate exactly how momentus this event is! Through the utilisation of radio partnerships we were able to target the right audiences and leverage them to build further credibility for the NZ Football and All Whites brand."
The campaign launched in late August, across OOH, radio, social and digital.

CREDITS
Client: New Zealand Football – Meghan Kelly
Creative: Contagion – Oliver Maisey
Media: Contagion Media
Production: Inhouse Studio
Account Director: Charlotte Eddowes
Media Agency: Contagion Media
---