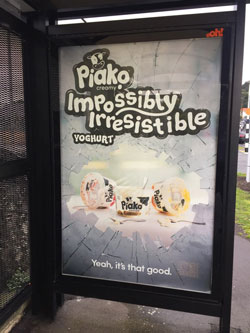 AUCKLAND, Today: Some things are delicious and then there's Piako, which (reckons Contagion ECD Bridget Taylor) is absolutely irresistible. "This truth was the foundation of the idea for the new outdoor campaign launched by Contagion & Fonterra this week," she said.
With the female shopper firmly in mind, Contagion also crafted insight-based lines for the lids and tops of the new 500g yoghurt range. 
Bridget Taylor explains the creative approach: "The campaign is based on the lengths people will go, to get their hands on these delicious flavours. To make it even more impactful, we concepted to make a standard media look like a special build.
"This is a brand new campaign, positioning and design. As can be seen from the photo, it is a clever use of media for this category."

CREDITS
Agency: Contagion
ECD/Creative: Bridget Taylor/Todd McCracken
Senior Client Partner: Carla Tamahori
Planner: Laura Davies
Designer/Art Director: Mike MacKinven
Photographer: Paul Jones
Fonterra Client: Caroline Taku, Margaret O'Sullivan
---