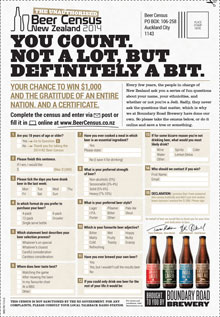 Barnes, Catmur & Friends have joined with Boundary Road Brewery to tackle the Government on behalf of The People.
"Every few years, the Government unleashes a census on the unsuspecting public of New Zealand – they ask all about your name, ethnicities and favourite brand of wallpaper adhesive, but sadly they never ask the questions that matter," says Boundary Road General Marketing Manager Adam Maxwell.
"Boundary Road Brewery sought to correct this oversight, so through our agency Barnes, Catmur & Friends we commissioned the country's first Beer Census.
"Through print and online, people were asked to give their opinions on all things beer, because their views matter. Not a lot, but definitely a bit.
CREDITS
Agency: Barnes, Catmur & Friends
Managing Partner Creative: Paul Catmur
Managing Partner: Strategy: Daniel Barnes
Head of Account Service: Luke Farmer
Senior Account Manager: Nicholas Gallagher
Creative: Rob Longuet-Higgins
Creative: Rob Cook
Head of Digital: Greg Elisara
Digital Developer: Dylan Scott
Studio Finished Art: Alison Curtis
Head of Media: Monica Wales
Media Buyer: Tara Pilis
Client: Boundary Road Brewery
General Marketing Manager: Adam Maxwell
Marketing Manager – Beer: Ben Shaw
---