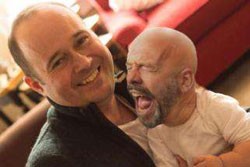 Australasian film company Curious has hired well-connected US businessman Chris Brenaman as head of sales to introduce their new US office to the world.
Breneman, who will be based in Chicago, now becomes the vital American link to Curious' stable of award-winning directors and producers.
Curious was Downunder's most awarded production company at Cannes this year, winning two Golds and a Silver Film Craft Lion.
Matt Noonan and Darryl Ward launched Curious in New Zealand more than a decade ago, with Peter Grasse opening its Sydney office in 2007.
"It has been a Curious year for awards, not just in Cannes but at some of the biggest award shows in North America," said Grasse. "These successes have inspired our expansion into the US market – we're keen to make the whole wide world a little more Curious."
Curious directors Darryl Ward, Miki Magasiva. Regan hall, robin walters, sally shapcott, sam kristofski, stephen kang, summer agnew, tammy davis and zia mandviwalla are already well known in the us for campaigns like Old Navy and Air NZ.
In a less Curious life, Breneman worked at America's top production companies across three major markets – West Coast, Midwest, and the East Coast.
"I first met Darryl, Matt and Pete in Cannes when we shared a villa and threw some unforgettable parties for friends and clients worldwide,"he said. "I immediately clicked with them and felt they should be working in the United States.
"I'm an American who wanted to make it abroad. After winning with Curious worldwide, it's time to come home," he says.
"The fact that we're working together now … well, it's fate."
Recent Curious wins include Golds at the Andys, New York Festivals, Cannes, D&AD, Ciclope, Axis and AWARD.
---