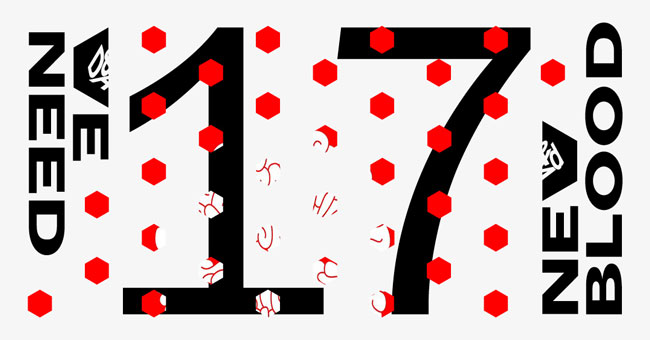 London, October 19 – This year's brief line up for D&AD's New Blood Awards 2017 has just been released. "What does this mean?" asks D&AD Foundation director Paul Drake. "It means that the next generation of creative disruptors can now sharpen their pencils, roll up their sleeves and start tackling the real-world briefs to showcase their talent.
"For 2017, D&AD's partners are a mix of returning favourites like John Lewis, Nationwide and BBC as well as some exciting new faces with Amazon, The National Autistic Society and Squarespace signing up this year," Drake said. "Collaborating with the Arjowiggins brief will be Facebook, Instagram and Sony Music, whilst board game fans can cut their teeth on the Hasbro brief in collaboration with Big Potato Games.
"Each brief has been designed to set a unique challenge and all are supported by a great range of learning resources and industry insight. This year's topics range from the real-world tangibility of paper to the possibilities of big data, food and drink, music and movies, finance to festivals, things to play and places to stay, education and causes to fight for.
"All the briefs have been designed in collaboration with industry experts to both reflect the real current business challenges faced by modern brands and develop the creative skills most sought after by industry, ensuring that these ones to watch of tomorrow are ready for the challenge.
Whether it's through launching new services or reinventing established brands, inventing crazes or revitalising causes, taking events to the world or bringing purpose to events, the New Blood of 2017 will be storytelling, shifting perceptions, standing out and shaping the future with passion.
"We need new exciting talent in this industry, and year after year we are blown away by the professionalism, ambition and skill of the work that is entered into the New Blood Awards," Drake said.
The partners
"Answering tough, real-world briefs set by globally-renowned partners, these students show the full breadth of talent that will be entering the industry in the next few years."
"As always the 2017 New Blood Awards are designed to be both challenging and demanding. This year they feature a mix of topical ideas and craft-based briefs, encouraging creatives to hone their skills, test their abilities and show why those already in industry need to be looking over their shoulder."
Open to any creative aged 23 or under, in addition to current students and those within two years of graduation, the New Blood Awards offer tomorrow's creative superstars a chance to tackle real briefs, set by real clients and judged by top industry creatives.
The 2017 Brief Partners are Adobe, Amazon, Arjowiggins in collaboration with Facebook, Instagram, Sony Music, BBC, Crowne Plaza, Desperados, Hasbro in collaboration with Big Potato Games, John Lewis, Monotype, UBI, Nationwide, Pearson, Respect for Animals, Squarespace, the British Army, and the National Autistic Society.
The full briefs are available for download from www.dandad.org/new-blood-awards. New creatives will have until 22 March 2017 to submit their entries, with the winners announced at the awards ceremony in London in early July 2017.
Winning work will be selected by a panel of judges and awarded a Wood, Graphite, Yellow, White or Black pencil.
This year's D&AD New Blood Awards 2017 creative campaign is being designed by The Beautiful Meme.
About D&AD
Since 1962, D&AD has been inspiring a community of creative thinkers by celebrating and stimulating the finest in design and advertising. A D&AD Award is recognised globally as the ultimate creative accolade, entered and attended by the best creative decision makers from around the world. Set to reward, promote and enable creative brilliance in all areas of creative communication, a Yellow – or Black – Pencil remains the pinnacle in many careers.
But it's much more than just the Awards. Members join a vibrant global community, whilst creatives and clients are inspired by a world-class training and development programme. Students are supported with projects, awards and exhibitions, which give them a vital leg-up as they enter the industry. As a non-profit, all of D&AD's surpluses go straight into the D&AD Foundation and programmes that develop the next generation of creative talent while campaigning for the creative industries to help solve the world's toughest social and environmental issues.
About D&AD New Blood
D&AD New Blood aims to reach young creatives from as far and wide as possible to offer inspiration, learning and genuine opportunities on the way into industry.
The New Blood Awards give full time students, recent graduates and under 23s around the world the chance to take on a variety of industry standard briefs set by global brands. Winning a New Blood Pencil is an instant validation of talent.
The New Blood Festival gives university students the chance to flaunt their best work in the face of the industry to make meaningful connections and land their first break. At the heart of the Festival is the UK's biggest graduate show for visual communications courses, while a creative takeover sees multiple brands, agencies and studios open their doors for keen young minds to experience industry from the inside and find out what that dream job may look like.
The New Blood Academy is an intensive two-week boot camp, sponsored by WPP and filled with inspiring and agitating talks, briefs, hacks and workshops. Young creatives who win at the New Blood Awards, or who impress at the New Blood Exhibition, are invited to apply for this unique learning experience.
---