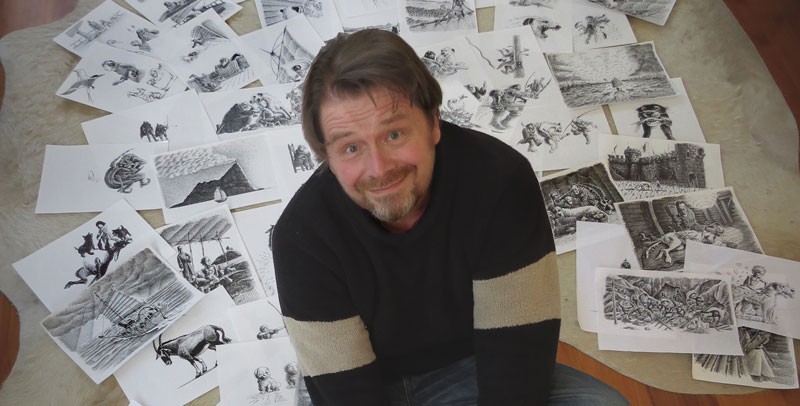 Freelance art director David Bell, the former CD of the Media Design School's Adschool, has finally got the illustrated version of his book out!
"I got it out just about on deadline [with help from the successful Kickstarter NZ programme], which won't come as a surprise to those of you who were exposed to Jeneal's furious pledging drive last Christmas," he says of his wife, the legendary Jeneal Rohrback (now at Marsden Inch).
"She's an implacable motivator.
"Needless to say, many of the people who pledged to the Kickstarter project were our friends in the NZ and Oz advertising industry."
The Dog Hunters has been a long time coming to maturation. "When I was six," recalls Bell, "I went to Beddgelert in Snowdonia, North Wales, which is when I first read the story of Gelert.
"It made me cry then, and it still does today.
"Fast forward to about 1992, when I had it in mind to do an illustrated book for kids about some of the mad dogs that a Chinese Emperor might want.
"Well, that 16-page picture book very quickly became a 700-page novel and showed no sign of stopping, so I got scared by the length and I stopped writing.
"But in 2005, I returned to the idea, and promptly realised that I knew nothing about Imperial China. So I stopped writing again. But I do know a bit about medieval Britain, and dogs, and by 2010, my son was 13 years old.
"Suddenly, several strands of different stories crashed into each other, and The Dog Hunters is the result."
But finishing the book is just the start of an equally gruelling publicity effort – without a traditional publisher in place and no discernable budget, he now has to bring it to the world.
"I have to start with focused targeting. That's already begun with me pushing it through the thousands of wolfhound lovers on global facebook communities, plus in October we're taking it to the Auckland Pet Expo and Armageddon, which this year has a literary fair attached."
The Dog Hunters is printed in Charleston Alabama, he says. "Though if you get it through Amazon UK I think it's printed in Slough, or somewhere equally glamorous.
"One of the biggest problems is lots of people want signed copies – which becomes a nightmare!
"I'll also be selling through TradeMe once the first order of books arrives in NZ.
"Part of me still wants a big publishing house or literary agent to pick it up, because I'm working on book two in the series and would like to have a shining white light at the end of the next tunnel.
"Whatever happens though, I'm having a lot of fun, with the side benefit of learning a lot of new stuff about advertising in the digital age."
You can see more on The Dog Hunters Illustrated here. This site contains links to the major online booksellers where you can order a copy.
See Bell's Kickstarter video here. You can also access here the info you need to contribute to Bell's upcoming second book in the series, The Dog Army.
The illustrated print-on-demand book costs just US$15.30 (including postage); the Kindle version is US$4.97. There are 10 customer reviews to date on the Amazon site – all highly complimentary.
To go right to the source, email rohrbelly@xtra.co.nz.
'The Dog Hunters has already garnered five- star reviews on Amazon worldwide, and Bell is currently working to finish The Dog Army, the second book in the adventures of Llewelyn & Gelert, while getting ready to do a mini-book tour of Europe and Southern California.
About David Bell (extract from his Amazon biography)
David Bell grew up on a diet of Hornblower and Sharpe novels, and learned to draw by copying Tintin and Maurice Sendak, two graphic influences you'll clearly see in the new fully illustrated edition of his book.
He studied Graphic Design & Illustration at Liverpool Art School, and with a successful career in London advertising under his belt, swapped hemispheres to do ads in New Zealand. In 1999 he set up Adschool, Auckland's internationally acclaimed course for aspiring young writers and art directors before returning in 2010 to creative advertising, a job he now shares with his first love – storytelling.
David uses Auckland as a base from which to travel the world with Jeneal and Frank, their son.
---