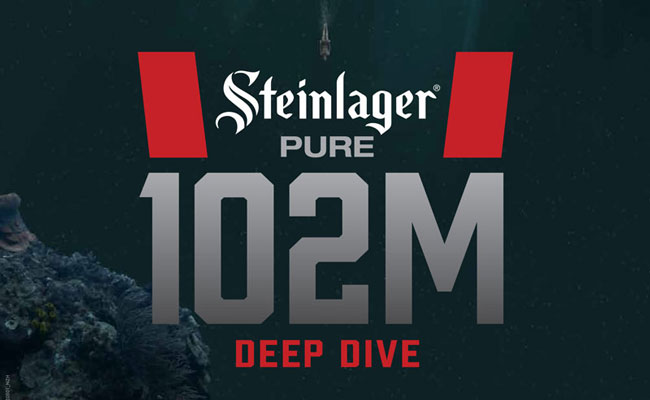 DDB's Steinlager Pure Deep Dive campaign has been listed – alongside Coca-Cola, Dell, HBO, KFC and MasterCard – for the 2016 Warc Prize for Social Strategy ("highlighting the best examples of social ideas that drive business results"). Warc is a global comms site, based in the UK.
A total of just 30 papers from 10 markets made the shortlist, coming from a wide range of business sectors, from financial services to retail, and were entered by a range of agencies, media networks, digital and social specialists.
The UK supplied the largest number of shortlisted entries (10), ahead of the US (8) and Singapore and the United Arab Emirates (3 each). Sweden and Germany each had one shortlisted entry, as did Australia and New Zealand, India and Nigeria.
"Once again, the social media case studies in this year's Warc contest demonstrate an exceptional level of creativity," said Gian Fulgoni, chair of the judging panel.
"I was particularly impressed by two types of applications," he added. "The first is where organic social marketing was used without any paid media to achieve a brand's objectives. The second is where social was used to successfully reposition an established brand or drive awareness, trial and repeat for a new one."
Warc will award the US$5000 Grand Prix to the best example of a marketing strategy that drives conversation, sharing, participation or advocacy, and can demonstrate a link to credible business results. Warc will also award five Special Awards of $1000 each, plus Gold, Silver and Bronze awards.
The judges
Chair: Market research consultant Gian Fulgoni, co-founder and executive chairman emeritus of comScore, London., Chair of Judges
Kimberly Doebereiner, director, brand building integrated communication, Procter & Gamble Cincinatti
Tania Yuki, founder/ceo, Shareablee New York
Mobbie NazirMobbie Nazir, chief strategy officer, We Are Social London
The winners will be announced in September.
Readers heading for Cannes this week can register to attend a Warc panel where Adam Ferrier (Cummins & Partners), Sandy Thompson (Y&R), Dom Boyd (adam&eveDDB/APG), Debbie Weinstein (Google) and Chris Stephenson (PHD Singapore) will discuss The Future of Strategy: Strategy Beyond Campaigns.
Read M+AD's ongoing coverage of Cannes 2016 – just enter Cannes in the Search box at www.mad-daily.com.
---