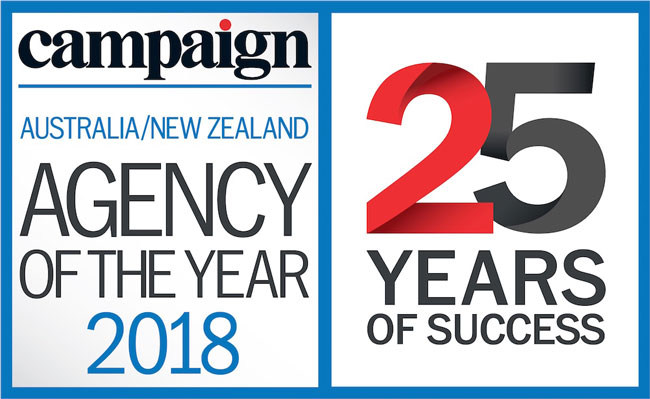 SINGAPORE, Last night: DDB was named New Zealand Creative Agency of the Year in the Campaign Asia-Pacific 2018 Agency of the Year Awards (Australia/NZ division), held at the Ritz-Carlton Millenia Hotel.
Special Group won the Silver, and Colenso BBDO the Bronze. DDB also won NZ Digital AoY (the Silver went to Special Group, and Bronze to Little Giant Linked by Isobar.
OMD won the NZ Media Agency of the Year Gold, while PHD won the Silver.
PHD Group's Simon Bird was runner-up (to UM Australia's Christopher Colter) in the Strategic/Brand Planner of the Year category. And PHD's Louise Bond was named runner-up in the Australia/NZ Agency Head of the Year (1st was OMD Sydney's Aimee Buchanan).
Special also picked up Silver in the ANZ Independent AoY category, while DDB mined Silver in ANZ Social Media AoY.
---
"OMD won the NZ Media Agency of the Year Gold, while MediaCom won the Silver."
---
Justin Mowday on top of the world
"DDB NZ has been named NZ Creative Agency and NZ Digital Agency of the Year, as well as being the top placing NZ Social Agency," said DDB NZ ceo Justin Mowday. "This is absolutely brilliant recognition of the whole agency — what a way to end the year.
"Thank you to the entire DDB NZ team for being brilliant, hard-working and committed, and for doing outstanding work for our clients. To be recognised three times over is incredible and I feel privileged to work with such special people at such a special place."
Ditto Nigel Douglas
OMD won Campaign's NZ Agency of the Year last night in Singapore. Here's ceo Nigel Douglas: "We are absolutely thrilled with our return to the top, winning New Zealand Media Agency of the Year last night.
"Nothing short of an epic year and I'm well excited about the prospects for the next."
NOTE: The origins of some agencies in the official list (link, below) was sometimes unclear – so we may have missed somebody out. If that's you – email ed@mad-daily.com and we'll sort it.
See all ANZ results here:
---