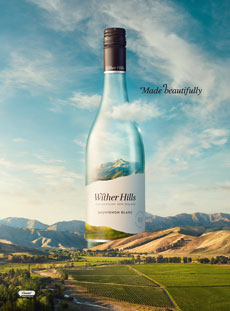 DDB – with help from ZenithOptimedia and Young & Shand – has crafted a new campaign for Marlborough winery Wither Hills which aims to inform consumers that the award-winning wine is "more than a name; it's a place where great wine is Made Beautifully". 
The campaign incorporates a new positioning, "breathtaking" imagery shot from Wither Hills' Taylor River vineyard, and innovative digital experiences, all underpinned by the Made Beautifully message.
"The Wither Hills brand is in great strength, making it the ideal time to capture that momentum by communicating more of the Wither Hills story," said Dave Campbell, senior brand manager at Lion.
To communicate this story, DDB is rolling out an "exquisitely realised" above-the-line campaign, blending the Wither Hills bottle into the dramatic backdrop of the Wither Hills ranges, paired with the Made Beautifully tagline.
Digital billboards featuring the new creative will transition from sauvignon blanc to rosé to pinot noir as the day progresses from morning to afternoon to night, giving commuters the chance to see the see the sun setting on the Wither Hills ranges.
---
"The campaign is about reaffirming the beautiful place our wine comes from, in addition to highlighting the people and the passion that goes into making Wither Hills," he said. "It's this blend of place, people and passion that makes Wither Hills what it is."
---
Accompanying this is the Wither Hills 360 Experience — a virtual reality tour taken from the comfort of home. Viewers will experience a day in the life of a Wither Hills winemaker as they're led among the vines, observe a wine blending session in the barrel hall, visit the Wither Hills cellar door, and are flown over the estate at sunset.
Wither Hills will be releasing the 360 Degree Experience online in the coming months, and plan to roll it out in-store later in the year.
Wither Hills has also unveiled a slick new website, witherhills.co.nz, giving customers the opportunity to purchase their range online, and learn more about the story behind their wines.
Sally Williams, a Winemaker at Wither Hills for over 12 years, believes the campaign has perfectly captured the essence of the wine and the region it hails from.
"It takes a beautiful place to make a beautiful wine, and that is the story that we want to share."
Further supporting the 'Made Beautifully' campaign is the relaunch of Wither Hills' Single Vineyard range, which will feature three new vintage wines from Wither Hills' most iconic vineyards, Rarangi (Sauvignon Blanc), Benmorven (Chardonnay), and Taylor River (Pinot Noir).
---

CREDITS
Lion
Marketing Director: Craig Baldie
Category Marketing Director: Adrian Hirst
Senior Brand Manager: Dave Campbell
Brand Manager: Vanessa Di Gianni
DDB
CCO: Damon Stapleton
CD: James Conner, Christie Cooper
Art Director: Liz Richards
Copywriter: Nick Dellabarca
Head of Planning: Lucinda Sherborne
Senior Planner: Anna Gunnell
Group Business Director: Scott Wallace
Account Director: Mark Wilson
Agency Producer: Andy Robilliard
Agency Retoucher: Gordon Moir
Typographer: Nick White
Mac Designer: Kathryn Hollis
Digital Producer: Sheetal Pradhan
Designer: David Hirschberg
Developer: Mike McMillan
Mango
Account Director: Tabitha Coleman
Account Manager: Amber Young
ZenithOptimedia
Group Business Director: Alex Lawson
Business Manager: Andrea Burke
Production
Photographer – Match Photography: Ross Brown
Producer – Match Photography: Kate Bridges
Retoucher – One White Chair: Karl Hugil
Young & Shand
CD: Tim Wood
Senior Designer: Carla Shale
Senior Art Director: Genevieve Chunn
Senior Copywriter: Simon Otto
Senior Copywriter: Daniel Nelson
Strategy Director: Daniel Phillips
Senior Planner: Jo Palmgren
Business Director: Dan Maas
Account Manager: Daniel Oleary
Head of Production: Matt Van Tiel
Senior Producer: Caroline Wells
Head of Development: Andrew Dover
Developer: Jeremy Prowse
Developer: Matt Quinn
Design / UX: Zara Huddelston
Editing / Motion Graphics: Will Brown
Photography: Jess Jones
Photography: Paul Jones
VR Director: Charlie McDermott
VR Producer: Matt Coleman
---