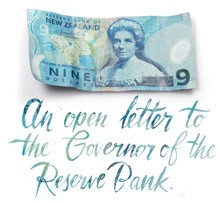 DDB has won July's Newspaper Ad of the Month with their YWCA 9 dollar open letter ad. "Lovely use of the medium with the recall of a product idea; really nice and tight with great copywriting and art direction," the judges said.
Special Mention was awarded to Cognito Advertising for their Pipe Down ad.  Judges agree that the "The copy was very well written and the tone was great; good use of long copy in a medium where you'd actually read it; beautifully laid out and to the point," the judges said.
The judges were Ben Polkinghorne (Colenso BBDO), Kate Humphries (Media Design School) and Emma Harrison Clark (freelance).
The second season of Agency League is back with a vengeance.  With this month's win, DDB sits at the top of the table with 5 points.
The second season of the News Works Agency League started on July 1, and returns with the Agency League Award up for grabs, with monthly ads being judged by top creatives.  Winners receive $250 and Agency League points for their agency which are tallied on a league table to run from July 2014-June 2015.
Ogilvy & Mather were the winners of the inaugural Agency League season, which wound up in March this year, following a gruelling 12-month battle between creative agencies.
Recognising newspapers' evolution to multi-media news brands, Ad of the Month and Agency League has recently expanded to now accept entry from newspaper digital ads, as well as newspaper print ads.
Along with this extension to recognise excellence in digital creative advertising, News Works is also jackpotting the monthly cash prize (of $250 cash) if no winners are selected to the following month.
News Works' Ad of the Month and Agency League competition is open to any ad that has appeared on a New Zealand newspaper website or app, or in any print edition. Both digital and print entries vie together for the best monthly accolade, with only one individual ad to be selected top each month – although judges may give special mentions to a number of exceptional ads.
To enter digital or print ads in Ad of the Month and gain points on the Agency League table, go to here.
Every monthly winner from 1 July 2013 to 30 June 2014 have automatically be entered into the $10,000 Newspaper Ad of the Year, with the winner being announced at News Works' annual awards on 2nd October at Sir Paul Reeves Building, AUT, Auckland.
CREDITS
Agency
Chief Creative Officer: Damon Stapleton
Executive Creative Director: Shane Bradnick
Senior Art Director: Toby Morris
Senior Copywriter: Simone McMahon
Account Director: Jenny Travers
Account Executive: Demi Nielsen
Studio Producer: Julz Lane
TV Producer: Nikita Kearsley
Editor: Mark Tretheway
Mango Group Account Director: Sean Brown
Mango Senior Account Manager: Eleisha Balmer
YWCA
Monica Briggs – CEO, YWCA Auckland
---