AUCKLAND, Wednesday: Dentsu Creative's annual survey of CMOs in the UK, US, China, India, and Brazil is providing a stark insight into what today's clients need and want most from their agencies.
The report identifies eight themes that define "the future of modern creativity, and what clients most want from their agencies".
LA-based dentsu International global chief creative officer Fred Levron said: "85% of clients agree that while consumer behaviour has undergone rapid changes in the last five years, the agency model is yet to adapt.
"78% say that the silo-ed agency model is no longer fit for purpose in today's world.
"Clients are seeking a new agency model, where creativity is a horizontal not a vertical, with 82% agreeing they want to see creative solutions across every aspect of their business – Media, Commerce and CXM – just as much as in campaigns."
India is the market where CMOs are most likely to have invested in creating their own TV programming.
China and India dominate for the creation of Branded Entertainment and IP, with 53% of CMOs in these markets investing here, while China is the global leader in creating Branded Characters and IP.
Levron: "Hungry for change, today's CMOs agree that in the connected world traditional scale is no longer the advantage it once was.
---
"Seventy-eight percent say that the silo-ed agency model is no longer suitable in today's world.
---
"85% of clients agree there should be a more intelligent way to  scale for a sustainable world, while 76% simply want their agencies to connect the right talent around the right brief, regardless of where it sits.
"Diverse creative talent is seen by CMOs as a key enabler of modern creativity, with an agreement that difference of thought and background can yield the strongest work. Today's
clients demand that agency teams should reflect the diversity of the modern world."
"We introduced Dentsu Creative to the world in the belief that clients want something new and different. That they are tired of artificial silos and complexity and seeking modern, integrated creativity.
"This survey showed that today's CMO's are with us all the way on that. They don't want  creativity to stay in its swim lane, they want to see creativity across every aspect of their business-across media and CXM just as much as campaigns and content.
Dentsu Creative India ceo Amit Wadhwa said: "We all know that the business landscape is rapidly changing and so are the expectations from agencies on how and what we deliver.
"It's extremely essential for all of us to be in tune with the requirements and expectations in this changing environment."
---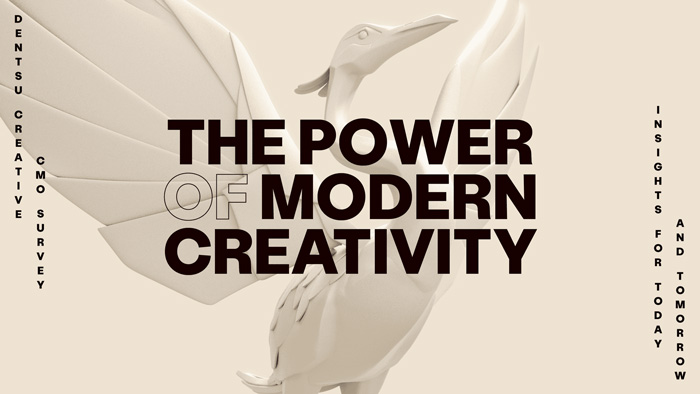 Eight key themes were identified …
Methodology
To access insight into the role of creativity and the creative experience among senior marketing professionals, Dentsu Creative surveyed 500 CMOs or those in equivalent positions, from six markets: UK, USA, India, China and Brazil. Each respondent represents a company with 250+ employees. The agency worked with Kadence International to access a sample of global CMOs representing a broad spectrum of sectors.
The fieldwork was conducted in May 2022.
About Dentsu Creative
Dentsu Creative is dentsu International's new and sole global creative network.
About dentsu International
Part of Dentsu Group, dentsu International's radically collaborative team of diverse creators unifies people, clients and capabilities through horizontal creativity to help clients create culture, change society, and invent the future. dentsu International operates in 145 markets with more than 46,000 dedicated specialists, and partners with 95 of the top 100 global advertisers.
---