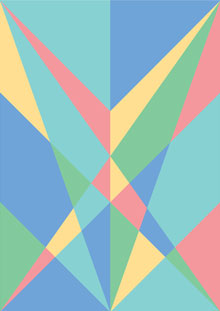 Auckland design & ad agency Designstein has produced an eye-catching print to raise funds to help with the desperate relief efforts in Vanuatu after Cyclone Pam.
"We wanted to show our support for our friends in Vanuatu and saw an opportunity for them to do what they do best – use our creative skills to help make a difference," said Designstein CDE Raymond McKay.
The design is an abstract, geometric 'V' for Vanuatu, bringing in colours from the islands and alluding to the native Bird of Paradise flower. "It was inspired by Vanuatu, while being modern enough for any Kiwi home or bach," said McKay.
Designstein works with many Pacific Island businesses and organisations. After a high of winning the tender to become the ad agency for Niue Tourism at the beginning of the month they were devastated by the destruction and loss the cyclone caused and wanted to help out.
"We work with many Polynesian people, companies and organisations so this is a little something we wanted to do to show our support," McKay said.
The fine art prints are being sold through Endemic World – both online or from their store in Ponsonby, starting at $39 each for an A4 giclee print, with 100% of the proceeds going to the Red Cross.
Buy online here.
About Designstein
Designstein is an independent, creatively led agency based in Auckland, focused on creating quality design and advertising solutions to help build and grow businesses. They work with their clients to deliver engaging communications across a number of platforms, primarily across brand identity, print, packaging, publications, website design and creative direction for print, web and TV. For more information go to www.designstein.co.nz.
---