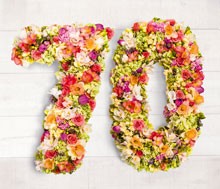 New Zealand's longest continuously published magazine, is celebrating its 70 years in print this month.
To mark the occasion, Fairfax Media has reprinted NZ Gardener's very first edition – September 1944 – and a copy of this special collectable publication is being given away with the September issue.
Looking back at the first magazine, and through NZ Gardener's extensive archives, shows just how dramatically our gardens, and gardening habits, have changed in those seven decades, editor Jo McCarroll says.
"When the magazine was launched, New Zealand was still in the throes of World War II. In fact the first editor, Jim Matthews, had to get a special Act of Parliament passed to make enough newsprint available, since paper was rationed at the time.
"But Jim made a case saying a local gardening magazine would raise the country's morale and encourage Kiwis to grow their own food to support the Dig for Victory campaign. So the law was passed and NZ Gardener was launched."
The issues from the '40s and even '50s, feature plenty of things that might cause a modern gardener's eyebrows to twitch, McCarroll says.
"There are ads for garden products featuring DDT, arsenate of lead and 2,4-D. There are instructions for felling a garden tree which suggest blasting the stump out with dynamite.
And there are stories about the hand and arm problems common to gardeners back then that we'd now recognise as Occupational Overuse Syndrome – with no electric hedge clippers until the late 1970s, all hedges were trimmed by hand."
Popular NZ Gardener columnist, Kapiti plantsman Julian Matthews (himself a former editor of the magazine) is the son of the founders Jim & Barbara Matthews. "NZ Gardener got started because my father was so passionate about gardening," said Julian Matthews.
"He'd been a journalist, and a very successful one, but every spare moment was devoted tinkering around with plants.
"It's interesting to see how much enthusiasm there is in growing your own food again now. People really had nothing during the war years and were growing their own fruit and veg just to put food on the table. "Now, people are still growing food to help the family budget, but also because the freshness of food is so important and there's much more awareness of where your food comes from.
"And there's so much interest in cooking! Gardeners know homegrown always tastes best. We've come back full circle, we're just doing it in a more sophisticated way."
In the September issue celebrating the 70th anniversary (on sale September 1), Jo McCarroll interviews a Christchurch nonagenarian who has been reading the magazine since the very first issue. "Avril Chapman was working at NZ Gardener's original publishers, Reed Publishing in Wellington, in 1944," McCarroll says.
"She remembers the day the first issue came in. She says it was completely new and different to what had been done before and a welcome distraction during the war. She read every page, and has read the magazine ever since."
McCarroll says looking back has been a fascinating journey for the team at NZ Gardener. "So many things have changed in terms of how we garden today. Although there's also plenty of very sound advice in the old issues. There's a tip in the very first issue about using seaweed on your asparagus that I am going to try myself!"
The anniversary edition also includes 70 expert tips on growing fruit and vegetables; and a look back at 70 years of wedding flowers in New Zealand, plus recipes, advice on what to sow and plant now, tips on growing your own pecans and a guide to creating perfume from herbs.
Revisiting the old issues, one thing is clear, McCarroll says. "New Zealand has always been a nation of gardeners. And still is!"
These days, of course, the title now also sports a website edition – at www.nzgardener.co.nz.
---