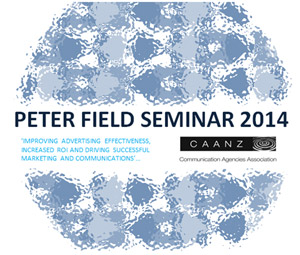 CAANZ is reminding the industry that UK-based independent advertising effectiveness consultant Peter Field returns to NZ next month – on Wednesday 11 June – to conduct a half-day seminar on how to increase ROI and the chances of business success.
Field is already well-known in NZ – in 2013 he was an international judge for the CAANZ Effie Awards and was a key presenter at the Effies Effectiveness Function.
He built a reputation over 15 years as a strategic planner in advertising. In 1997 he left advertising to pursue a consultancy role supporting both clients and their agencies. And over the last 30 years he has worked in most categories and on over 100 brands.
He was a member of the IPA's Advertising's Value of Advertising Committee for five years, and set up and ran its Effectiveness Databank in its early years.
He has also been a judge for the IPA Effectiveness Awards.
Field's published work includes Marketing in the Era of Accountability with Les Binet (2007), based on a meta-analysis of almost 900 case studies in the IPA Databank, and in 2008 he co-authored Brand Immortality co-authored with Hamish Pringle, published by Kogan Page. This was a practical guide to maintaining brand health across the life-stages of categories – it too draws on the findings of the Databank.
In June last year, he broadened the scope of his work on creativity using the Australian Association for Data-driven Marketing & Advertising (ADMA) awards database: the report, was titled The link between creativity and effectiveness.
Course overview – Maximising ROI – the long and the short of it
The course is primarily concerned with how to increase ROI and the chances of business success.
No one can entirely eliminate the risk of failure, but by observing empirical rules that drive success we can certainly reduce the risk of failure. The course provides the theory and evidence needed to build and support the case for better marketing and communications. In a world full of hype about the latest tools, this course goes back to hard evidence of what really works to enable you to avoid costly mistakes.
Peter Field will offer a combination of content, examples of case studies, Q&A, plus interactive exercises over 4.5 hours.
Who should attend?
Senior Strategic Planners from creative and media agencies with at least vie years' experience looking to add value to client relationships, and Brand and Marketing Managers looking to improve the effectiveness and ROI of their marketing and communications.
DATE: Wednesday 11 June 2014
TIME: 8.30am-1.00pm
COST: Members $595 + gst. Non-members $695 + gst.
VENUE: Bauer Media, Shed 12, City Works Depot, 90 Wellesley Street West, Auckland
TO BOOK: Contact CAANZ Industry Development Manager Marlen Smith: marlen@caanz.co.nz, or 09 303 0435.