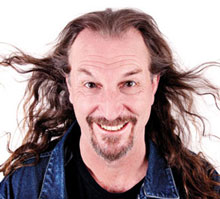 Comedian Ewen Gilmour died in Auckland last night, aged 51. Just hours earlier, he had been filming in MediaWorks TV's Auckland studios for a comedy special (still to be named and scheduled).
He died at his home in Port Waikato, apparently of an existing medical condition.
The marriage celebrant, Variety ambassador, inaugural Billy T Award winner (in 1972), was NZ's Worst Dressed Man in 2012 – a citation he was said to have been very proud – perhaps too proud – of.
"He was a much-loved and respected part of the wider MediaWorks family and had given generously of his immense talent over the years," said MediaWorks TV head of local production John McDonald.
"Gilmour was mischievous, intelligent and warm-hearted. He set the standard for many of our young comedians to aspire to, with a knack for telling a wonderful, crazy, circular story that had fantastic gags all the way round. He'll be hugely missed."
A funeral date has yet to be announced.
---