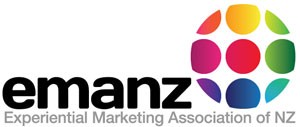 Just before Xmas the experiential industry held its final meeting for the year, bringing together the teams from 20 agency members of the Experiential Marketing Association of NZ to hear the latest news on industry initiatives from the EMANZ executive committee.
2014 was another growth year for the industry as more and more brands and marketers place experiential at the forefront of their campaigns, said EMANZ chairman Mark Pickering. "This year will see another bumper year with activations planned around the many local and international events occurring, such as the Rugby World Cup, Cricket World Cup, FIFA Under-20 World Cup and the Volvo Ocean Race.
"2015 will see a number of EMANZ initiatives come to the fore for the industry. Already under way is a world-first measurement research project in association with CAANZ and AUT to provide benchmarks for the experiential industry on effectiveness of the medium. This will prove invaluable in the future as the industry grows and fights for marketing dollar against what are perceived to be more measurable media such as TV, radio etc."
Other initiatives include working with Auckland Council on new street marketing by-laws and permits for 2015, a brand ambassador endorsement programme to develop the best field marketing teams and closer coordination with the CAANZ PR Social Media &Experiential committee (PRSEC – formerly the CAANZ Marcomms group), and the Marketing Association's initiatives in the experiential space.
Also in 2015 EMANZ will work with CAANZ PRSEC to manage a survey of experiential agencies that will help to finally work out how big the industry pie is in client spend and to confirm how much it has grown in recent years.
"The last five years have seen substantial growth in experiential marketing in NZ, in line with the trend globally," Pickering said. "EMANZ continues to work on initiatives that are driving the category forward in NZ; providing measurement research, best practice in staff and production and continuing to work closely with councils and event owners to ensure the public get the best out of brand activations.
"We continue to work hard to educate clients and brands in best practice and to show how effective experiential is in changing consumer sentiment and behaviour towards brands.
"Summer has already kicked off strongly for our members and with so many global sporting and cultural events hitting our shores this year we will see another huge boost to the industry as a whole. I expect this year's CAANZ Axis and Effie awards to be filled with great experiential activations leading the way for the industry."
---