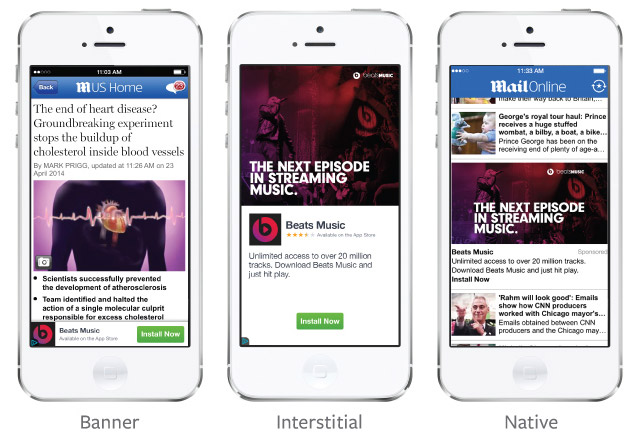 Facebook is expanding its mobile ad network, called the Audience Network, to give advertisers a new way to extend their campaigns to other mobile apps.
"With the Audience Network, clients can easily extend and scale the success of their Facebook campaigns into additional mobile experiences," said an unnamed Facebook Australasia spokesperson (in a release from Pursuit PR NZ's Gavin Ogden).
The result, the release says, is:
The ability to reach even more people, more accurately, and in more places
Better insights and decision-making for mobile campaigns
"The latest tests for the Audience Network will be specific to mobile app install ads – though we expect to also test other advertiser objectives like in-store and online sales – and include native, interstitial and banner ad formats.
"Facebook ads work because they're personal, relevant and easy to measure on both desktop and mobile. The Audience Network brings these same powerful features to additional app-based mobile experiences, giving marketers even more scale for their Facebook campaigns.
"The Audience Network uses the same targeting available for Facebook ads today, including Custom Audiences, core audiences and lookalike audiences. It features the same measurement tools marketers use for their Facebook ads, too.
"For marketers already running News Feed ads on Facebook, using the Audience Network takes just one click. The Audience Network will be available in all ad interfaces, as well as the API. Once a campaign is running in the Audience Network, our system handles optimisation and delivery."
Ads in the Audience Network are designed to help marketers meet key business objectives, like driving app installs and engagement. To help deliver the best ads possible, the Audience Network delivers ads in three creative formats.
Regardless of format, there's no need to upload new creative — ads in the Audience Network use the same images you use for your ads on Facebook.
With the Facebook SDK or by working with a mobile measurement partner, marketers can measure app engagements and conversions, demographic information and more. The results from Facebook campaigns and Audience Network campaigns can be broken out separately to show what's working, or results can be viewed comprehensively.
"The Audience Network is starting with advertisers looking to drive app installs or app engagement. We'll expand to include additional marketing objectives in the future," the release says.
"Since we're still in the early phases of the Audience Network, we anticipate performance to vary at first. We expect to see performance increase as more ads, apps and publishers come onto the system."
The Audience Network will roll out to more advertisers in the coming months. Read the full release here.