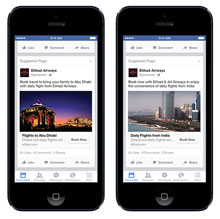 To help businesses reach people living abroad, Facebook has unveiled a new targeting feature that enables advertisers to reach the 92 million expats on Facebook.
Marketers can now connect with expats living within a given country (like expats living in Brazil) and expats originating from a specific country (like people born in Brazil living abroad). Nationality-specific targeting is currently available for people from Brazil, Indonesia, China, South Africa and India.
Since many expats travel home for the holidays, Etihad Airways saw an opportunity before Diwali to connect with the 27 million Hindus on Facebook living outside India. Like many holidays, Diwali is a festival to be celebrated with family and friends.
Using expat targeting, Eithad connected with expats with messages about travelling home for the holiday, reaching 536,00 Indian expats living in the Middle East, leading to 700 bookings and a 50-fold return on investment.
"People expect communication to be personal, relevant and mobile," said Etihad Airways marketing VP Andrew Ward. "With Facebook's expat targeting, we were able to speak to a highly relevant audience and deliver them something that was truly valuable in real time. That's the secret to a great campaign."
Like all Facebook products, this new targeting capability is built in a privacy-protective way. "We don't share information with advertisers that tells them who a person is," said an unnamed Facebook NZ spokesperson in a release.
Expat targeting is now available worldwide in all Facebook ads interfaces, including the API.
---